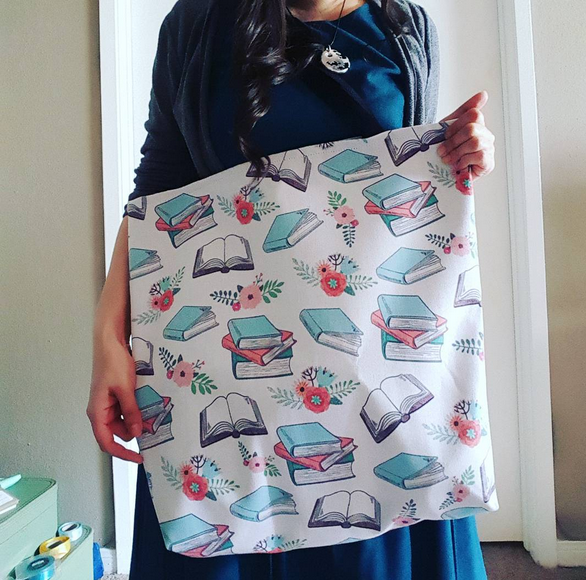 I purchased this amazing tote bag from Society 6 by Evie Seo. And yes, this tote is HUGE!!! I ordered the 18×18 but you have your choice of 13×13 or 16×16, which is probably the size I will order the next time. Yeah, I plan on ordering another tote down the line because there were a few other designs I can't live without. But for another time, my wallet needs a break.
But I love the size, the only thing that would make this bag absolutely perfect is if it had pockets on the outside or inside. I added one on the inside to hold my cell, it's not my best work but it works. Other than that, it holds everything! I still think Mija should design some things and have a Society 6 store for Mind-Speaks, but that might have to wait a while.
Below are my videos for my April book haul! I broke it into two parts since I wanted to discuss the poetry books I bought this month. I wasn't really interested in poetry until I discovered these books!!! The second video contains all the fiction books I purchased.
I'm still figuring out editing. I will probably say that about every video I post, because Movie Maker isn't the greatest program, but like I've said before. I'm working on it. I'm enjoying this entrance into the booktube community. I'm just trying to figure out more video topics, aside from book hauls. I love filming and watching these types of videos, however I won't always be able to buy a bunch of books in order to film such videos. Hence, the need for other topics. I have a few ideas.
Thank for stopping by.