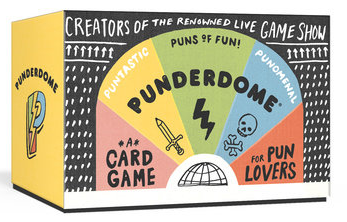 Punderdome
-Puns of Fun!!!
This game was created by a father-daughter team, Jo and Fred Firestone. Their last name sounds like a superhero team if you ask me. The game requires at least 2 people to play but recommend having more than 3. I think playing this game with teams would be really fun and can't wait to try that out.
First impressions: Excited to play
The game is nicely illustrated and brightly colored which makes it eye-catching. It's packaged nicely, a place for everything included. The box is small and will fit snugly on a shelf or cabinet, so if you're short on game storing space, worry not.
Continuing on, this is a game of puns.
That's right! Puns!!! If you do not like puns, this game will either A)change your mind about them, or B)make you a punmaster! Either way, try it out before you decide against it.
Here are the written instructions:
The objective: Win a Mystery Envelope prize(before playing, the prompter fills Mystery Envelopes with a prize. i.e a candy bar or a dirty napkin) by being the first player/team to obtain ten pairs of cards.
First, Prompter draws two cards and reads one Quick Pun question
The player who responds quickest with a pun wins 30 extra seconds for the Prompt Round to follow
Prompter flips cards, reads Green(situations) and White (topics)
Players have 90 seconds to write down a single pun (word/phrase/sentence) that combines both topics and then give to the Prompter
Prompter chooses best pun and awards that player that round's Green and White Cards.
The winner becomes the new Prompter- rounds continue until one team/player has ten pairs of cards
According to the game's inserts, the game Punderdome started as a competition in Brooklyn, New York. The card game was only created in 2015, so it's still fairly new but the live game show in New York began in 2011. This game requires a sense of humor and cleverness that might surprise you. I think I will enjoy this game much more if I play it with a larger group of friends.
I'm definitely adding this game to future game nights. It's compact enough for trips out to bars or a friend's house. I guess it also depends on the type of friends you have. Some might not find this as entertaining, but in my opinion, I think it will convert those skeptics.
*I received this book from Blogging for Books for this review.
Thanks for reading