I received another past email from May 20, 2016 that I wrote to myself. I thought I'd share it with you and discuss the contents and how weird it is to consult without myself and remember when I was typing it out and how I felt then and how I feel now.
Dear FutureMe,
Hey, you finally graduated college and your niece will soon be born. Yay!
You are trying to find a career and you don't think you will meet THE guy any time soon. After what happened with…well you know. I feel stupid, but you definitely don't regret the breakup. I hope by this time next year, you will have your own place, a decent paying job and perhaps even a someone who loves you. Don't feel too bad if you haven't found him yet. Concentrating on yourself is always a good thing. 
I love being you. Remember that.
Now, some back story in case you are confused. I ended my 2 year relationship at the end of 2015. It wasn't healthy and I had to end things for my sake and his. 2016 began with a lot of heartache but I managed to graduate, find a job and myself. It turned into a very strong year for me, I had to learn who I was again and be a person I was proud to be.
I may not have my own place, but I'm slowly saving up for my own car now that I have to share my current car with my sister. I want my own. It might take a bit, but I'll eventually get there. I also mention in my email about how it's ok if I have yet to find THE guy. To my surprise, towards the end of 2016, I managed to find someone special. My love for him grows every day and I look forward to spending as much time with him as I can. Last weekend we went into the Lego Store and created these minifigs….loosely based on ourselves. I have so much fun with him.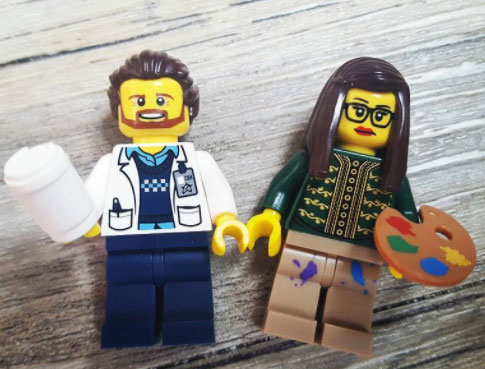 I always get excited whenever I get an email from my past self. This email was written in a point in my life where I had to sort of start all over. Starting over is sometimes the best thing you can do. 
Thanks for reading