2016 did not begin the way I had hoped it would. During the final days of 2015, I decided to end my relationship of two years. This decision was extremely difficult and painful for me to make, but in my heart I know it was the right thing to do. For both of us.
I've written this entry over and over again. Not sure how to explain it, this isn't about what he should have done, or what I should have done differently. The reality of it is, we just no longer fit anymore and I felt as if we were going in different directions. And sadly, I couldn't see us ever getting on the same path. I love him dearly and hope that when enough time has passed he will look back on our relationship, at all the wonderful memories we share, with fondness. Because that's what I will see.
Now on to my promise to myself. Breakups are difficult and I'm doing my best to keep my mind positive and look forward at what's to come. It's been pretty difficult, and I expected that but I'm going to allow myself all the time I need in order to heal. Because he was a very important part of my life and this is going to take time. I need to learn how to make myself a priority again, and how to let go. Thankfully, my friends have made it a bit easier to keep my mind on other things. Even my coworkers have also been helpful in this area.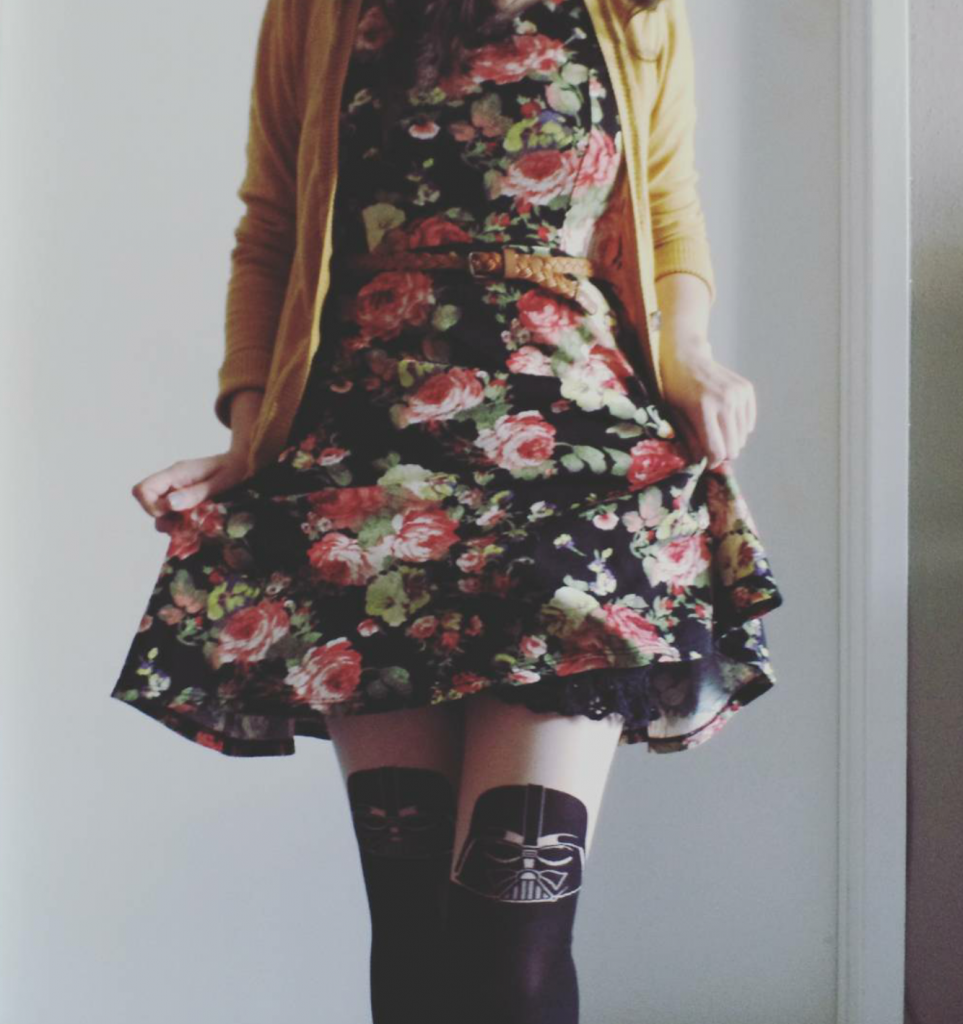 My manager bought me Star Wars tights! Both R2 and Vader! I think Vader just needed some floral in his life so I paired it with this dress and I love how it looked. Just an unexpected level of awesomeness. These also made me feel a bit stronger and currently, any added strength is definitely appreciated.  Got tons of compliments on them too. 🙂 Aside from cute tights, I also have three new apps that I have been using to keep my mind from sulking for too long. Neko Atsume, Sims Free Play and Daily Curiosity.  Who doesn't like collecting cats?! I do! So whenever I start feeling teary eyed, I just check to see if I have any new cats in my yard. I desperately want a pet cat!!! And Sims is just a great way to distract myself from the less than bright moments. Daily Curiosity is great for leaning random facts, I find it interesting. I've also kept myself busy by building and painting dino models. Triceratops was therapeutic, stegosaurus was a bit of a poop. But the finished product came out great, even though I think some of the ribs are in the wrong spot. >.<
 I'm just taking it one step at a time. I have things to look forward to this spring, graduation and the birth of my first niece, both in the same month! Looking forward to the little sea monkey gracing us with her presence and to beginning a new chapter of my life.  That's all for now….
Thanks for reading