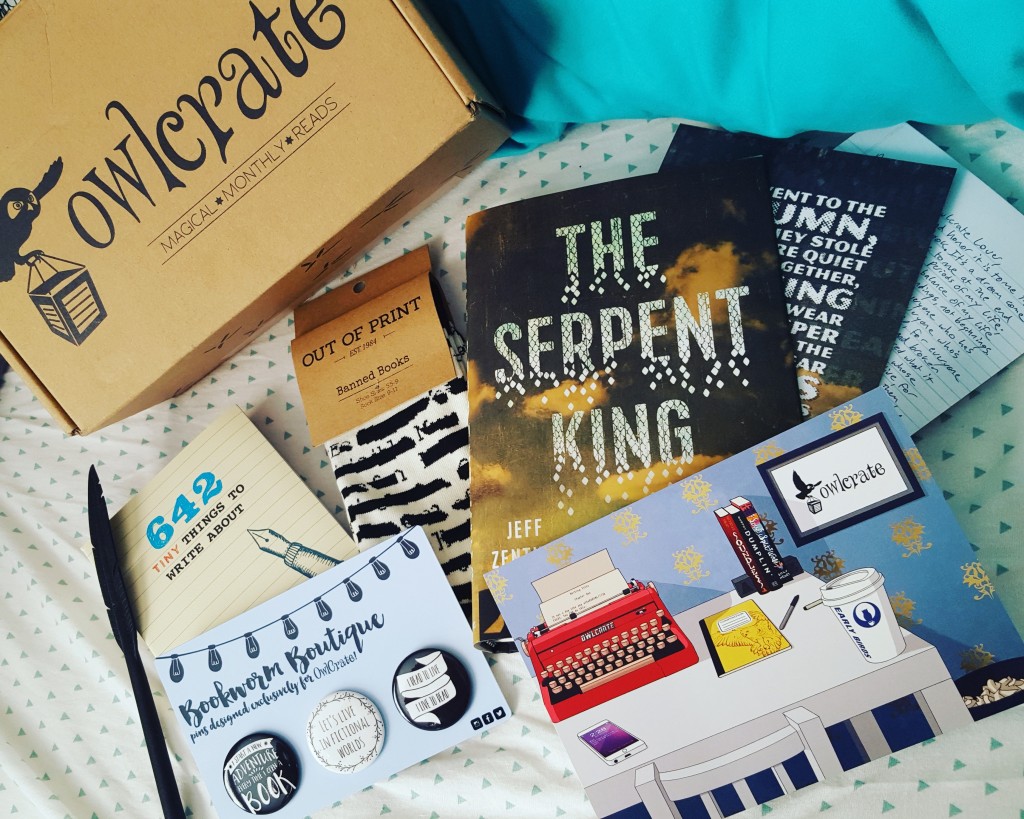 I bought an
Owlcrate
for the month of March-the theme was Writer's Block. Here are a few thoughts about it.
Contents:
My initial thought is, it's an adorable subscription box. But I don't think I would be subbing for the April Box. Once you subscribe, you do not have to renew it for the following month, so if you don't want it, then make sure to cancel your subscription before the first of the new month. The contents of the March box fit well with the theme, but I'm not sure if it was worth the price. The total was 36.98,  it ships from Canada so shipping was 6.99. I love the idea of it, but I'm pretty picky when it comes to the books I read, so maybe a blind box isn't the best idea for me.
The book chosen for this month's box was The Serpent King by Jeff Zentner. And even though I wouldn't have chosen this book myself, I do enjoy a coming of age story. I do plan on giving it a try before nixing it off my bookshelf. The other items were cute, I just think I had higher expectations due to past boxes and was slightly disappointed. But only slightly. I know it must be difficult figuring out each theme and choosing items to go with it. I also think I had this feeling because I saw spoilers on instagram. I mean, I shouldn't have been looking for spoilers, the whole point of a sub box is to be surprised and introduced to new novels. I might sub again if the theme is interesting, I'm happy I tried it out. I may try out a different sub box, but for now I enjoy picking out my own books. I'm currently waiting on an order from bookoutlet and from society6, ordered a bookish themed tote bag and I'm super excited to get it. I'm jut very impatient.
Have you tried a sub box? If so which ones, are you usually happy with its contents or have you been disappointed?
Thanks for stopping by and reading