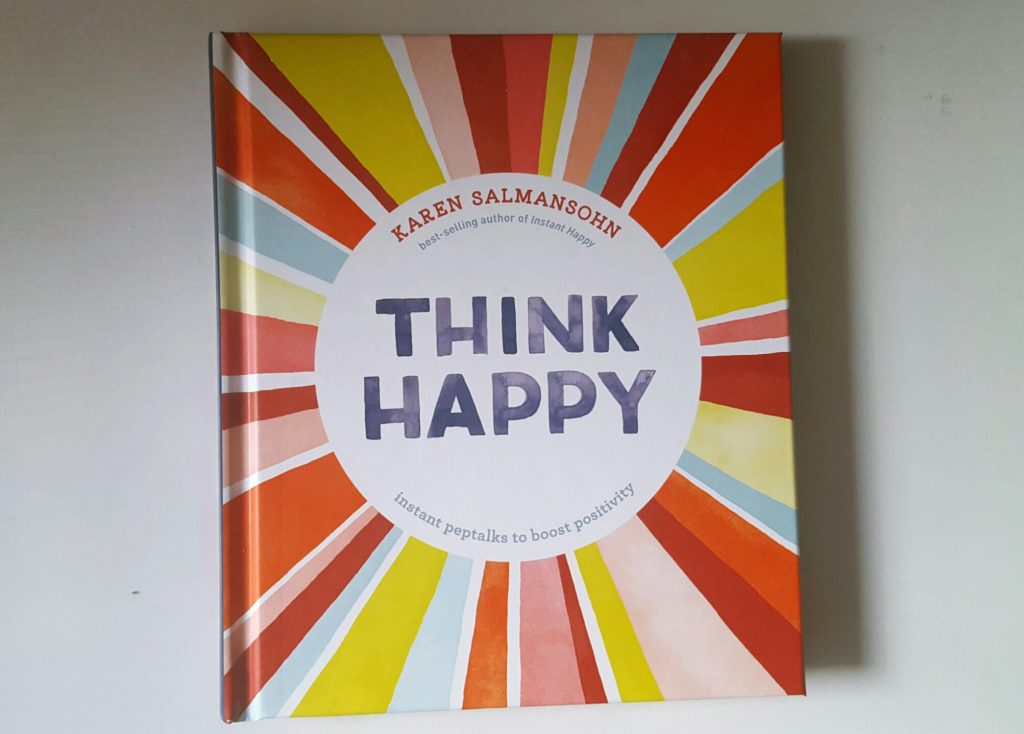 I love affirmations and being positive is something I myself am working on and it's a bit difficult sometimes. I try not to become a "negative evidence collector" but I find myself leaning more towards negativity rather than positive thinking.
Think Happy by Karen Salmansohn is the pep talk everyone and their pet cat needs. Now this book doesn't just automatically change the way you view life. However, it helps you slowly want to change. But if you rather remain on the gloomy side, then this book won't do much for you. I just want to express that.
The cute illustrations and happy go lucky attitude is just the bright light you may need to want to see that rainbow you seem to be ignoring. This book is small and the perfect addition to your coffee table. The cover alone brings a smile to your face and actually reading the different sections was eye opening for me. I found myself agreeing out loud.
My expectations when reading this book was that I figured it would be generic information that, if you're not always a shiny, happy person, then it would just be annoying to read. I thought this would be the type of book that made me feel bad for not always feeling happy. After reading this little book, I felt myself feel motivated. Motivated to see myself in a more positive way. I expected the line, "If we all saw ourselves the way others see us, then we would all be happier." But that's not how this book was written. It was written in a way for you to feel inspired about being positive. And I'm glad the book wasn't at all what I expected.
Learning how to be something is difficult, there are many tools available and having someone tell us what worked for them might not work for us. But this book isn't exactly telling you how you can be happy. Only you are capable of finding happiness. I just feel as though this book motivated me, and I don't want to be a pretzel!!!
*I received this book from Blogging for Books for this review.
Thanks for reading.