For the past week, I've been on a dating app in hopes of meeting new people that might result in a potential dating pool. Even though I've only been on it for a week, I have learned a few things.
Online dating is probably not for me. In this day and age, online dating isn't as looked down upon, however it still has this negative connotation to it. Because, for many, apps like these are for hooking up.  Please understand that I have nothing against it and if you met the love of your life from online dating, then I'm incredibly happy for you. That being said, let us begin with my tiny discoveries.
A lot of the guys on this app fill out their profiles completely.  Not all, but many more than I thought would, actually take the time to fill out some info about themselves.
People get bored fairly quickly. Even if you think you may be hitting it off, they might get bored and just stop talking to you. And it's not like I'm taking it personally. They don't know me and they don't owe me anything. But it is frustrating. But if I don't like where the conversation is going, I can stop talking to them as well. They just beat me to it.
The Multitasking Generation! Everyone is talking to like 10+ people at a time. I can only concentrate on one or two people otherwise people just start to blur. I thinking meeting people in person helps a connection, if there is something there, actually form. Right now, I'm just some text on a screen to these people and vice versa.
Attraction. For me,  attraction works in different ways. Of course, an initial physical attraction is necessary, and this isn't shallow. You have to be attracted to the person you are potentially trying to date. But as I get to know a person, they either become more attractive to me or less; so even if it's the physical attraction that matters in the beginning it changes to the attraction of a person as a whole. And I've dated enough to now know what I want and that is the whole package. I'm not going to settle and I'm not going to just wait for it to happen. I'm going to do my best putting myself out there.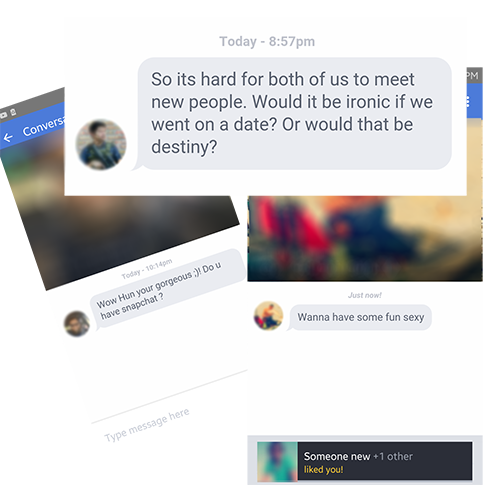 Now let's discuss some of the messages you might receive. You get the on flow of compliments…even if they don't mean it. It's apparently a favored ice breaker. Or then you might just have a more-to-the-point message, an invitation for a hookup. Another one is cheesy pickup lines, such as the one pictured above. I've gotten a few interested matches, some of them I was hoping would end up with a meet up, but then they must have found someone more interesting to them, which kudos to them for finding someone closer to what they want. Another possible message or match you might get are the hilarious ones. Ones that involve celebrities. That's right! I found Jon Snow!I just think it's funny that someone would create an account and then just use a celebrity's picture, do they get messages with people thinking they are the actual person, or do they get messages from people that just think they are a normal person? I wonder. Either way, it made me laugh.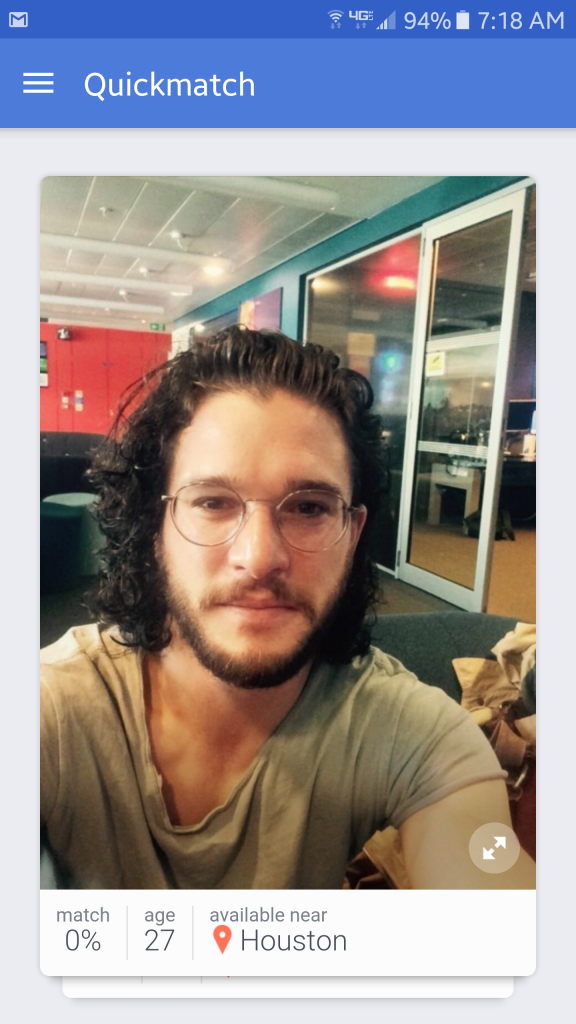 I'm still not sure if this is for me, I'll keep you updated should I ever meet up with anyone. I plan on talking with a person for a week or two before agreeing to meet up with them and I will only meet up during the day in a place I'm comfortable with. I will just wait and see how things go. But I also want to play it safe. Have you ever tried any dating apps? Do you have any tips? Or maybe you met your current bf/gf on a dating app, I'd like to hear about it.
Thanks for reading and commenting