Last Friday night I went into a cleaning frenzy…sadly the apartment is a mess again. I blame Hurricane Kat for that though. 😛 Any who, so I spent last Saturday out and about.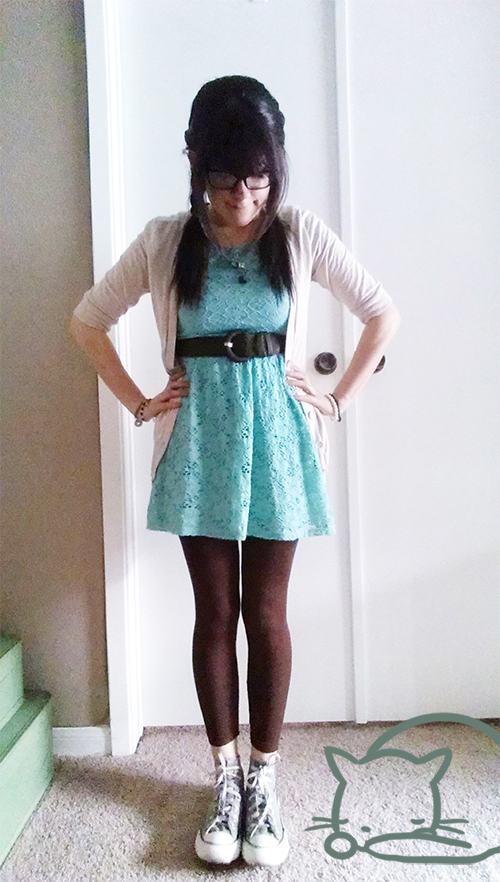 I wore this dress,  I keep meaning to sew a strange rip on the side. It's such a cute knitted dress but it's sooooo delicate. It's just a rip in the first layer, and until I sew it up I just cover it with my tan cardigan.  >.< Lazy I know. Recently I've been desperately wanting a pet cat. But I just remember living with Tomo and Missy and their…litter boxes. But I love love LOVE cats! If I could have one right now, I would want a ragdoll one, I mean most cats are adorable but these are just gah!!! And don't even get me started on munchkin cats. I've always wanted a cat with blue or different color eyes. My cats have always had green or yellow, I've been missing Kozi and Mr a lot lately. Probably because I haven't been home in awhile. Why are cats so adorable?! But they come with their own cons.
Litter box
Their claws discovering the couch, carpet, clothes…basically everything. Tomo would chew on anything with string.
Wouldn't feel comfortable leaving the cat alone at home…especially while its still in curious kitten mode.
Rent would go up even higher. -.- Not to mention the cost of vet bills, food, litter, damage to blinds or anything else belonging to the apartment. Not pretty.
What if I get a cat and it's mean and hates me? Mr. was a mean kitty, but I learned how to accept his dramatic attitude. And now he's just a grumpy old man cat, still love the four legged baby though.
Running out of cons, because let's face it cats are just amazing. But I don't have the means to take care of one at the moment. Plus the boyfriend is a huge cat person as well, and we've both said that if either of us got a cat the other would then only pay attention to said cat. That would probably happen a bit in the beginning, especially if it's a kitten. They grow up so fast, but having them that small scares me because I'm worried they will get hurt when I'm not around. So for now, looking at other people's cats will just have to do. Courtesy of instagram.
So wanted to share a recent ebay buy… this! I love it, but now I want to buy the green one, if I'm not careful I will get addicted to ebay.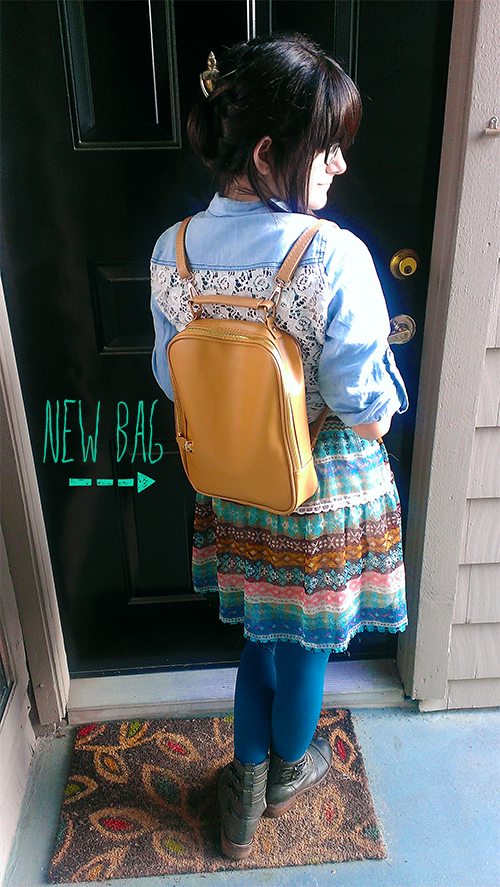 I also ordered something else but haven't received yet. Will share once I do, but anyway back to this awesome bag. I am afraid it will get damaged while wearing it out, odd thing to say. It is just a bag, and I'm being dramatic about it, but I LOVE it. It comes with two detachable straps so I can wear it like a backpack or a messenger bag. I've preferred wearing it as a backpack though.  I've been really bad this month, eating out and spending money on things I don't actually need. I need to be better from now on. -.- I will try my best.
So I've been looking for internships and such for when the summer comes. I really need a higher paying job, and it would be great if the higher paying job could actually be something I could use as experience for a different career. Or something that will enrich my resume. I felt so blah when I was creating my resume to apply for this position at the Houston Museum of National Science. I could totally see myself working in a museum, so I'm really hoping I get this position. Of course I know I don't actually stand a chance, so I'm not holding my breath. There's a career fair on my campus next week so I'll attend that and pass out my resume there and hope for the best. But I know I can't just wait for something to happen, I have to make it happen.
So as another month approaches, here's to being better and making life the way I want it to be. :3 How do you handle resume building? I wish mine was more impressive but even if it's empty now, it won't always be that way. Until next time….
Thanks for reading and commenting.