So my plans for Halloween changed, instead of going to the renaissance I went to this fun Nintendo event that a group called Lazy Bit Collective hosted at a bar.
It was a lot of fun, I only wish my Halloween costume was completed so I could have worn it. There was a girl there that wore the original Alice Madness dress and her boyfriend was the Cheshire cat. I wanted my date to dress up as the white rabbit, but he had other ideas.  XD  Anyway, so that was on the 26th, for actual Halloween we just watched movies and ate a bunch of junk food. Oh, and played a bit of SlenderMan, I'm terrible at it.
So now on to the costume! I didn't finish a few of the accessories, but I worked really hard on the skirt and I'm beyond proud of it. Seeing as I didn't get to wear it out this year, I plan on doing so next year. I plan on actually putting the ears on the hat and getting rabbit feet to put over my shoes.  Seeing other recreations of the outfit was helpful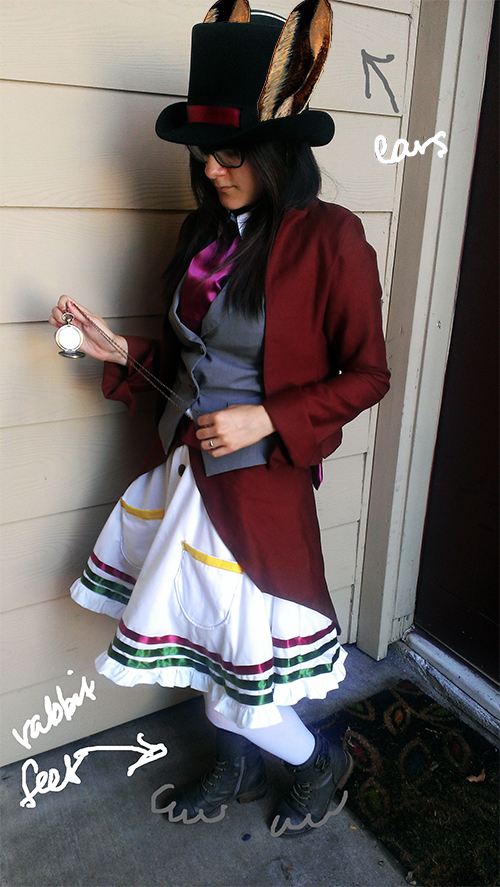 when making mine. I plan on finding/making a yellow vest, and then again adding the ears to the hat. I ran out of time and wanted to actually find a stuffed animal that I could deconstruct and use it's ears rather than make mine out of felt, and also add the feet to my bow in the back. I made my tail out of yarn and didn't have time to make the rabbit feet that dangle down. Along with possibly making the necklace that Alice wears in the game. Besides those things, I'm pretty proud with out the outfit itself came out. The jacket was a bit snug, but I didn't have a pattern and I've never made anything like this before so I'm still proud. All things considered it came out great with the limited time I had. This was also the first time I made a circle skirt and I plan on making more because this one came out just great.
I was bummed I couldn't wear this out, but at work I did get to wear a costume. I wanted to wear this one, but it rained so bad that day and I work at a restaurant and I didn't want to ruin the outfit I worked so hard to make. So I wore the Red Riding Hood costume I made three years ago.  I didn't really work very hard on that one so I didn't mind if it got ruined. Which the rain made my skirt bleed through the apron and it stained it pink a bit. One of my co workers dressed up as a wolf, so I thought it was pretty funny. My manager took a picture of us posing, so I'm hoping I can get a copy of it on Monday.
I had a lot of fun making this Alice costume, so I wouldn't mind wearing it next year, but if I find something else I want to recreate, then I plan on starting a lot sooner. XD So, what did you do for Halloween? Or if you don't celebrate, what are some of your favorite scary movies?
Thanks for reading and commenting.