Dating is difficult. This is something we all must come to terms with. I haven't been dating for very long but here are the types of guys I have encountered. This only rings true for me I am in no way saying all guys are like this.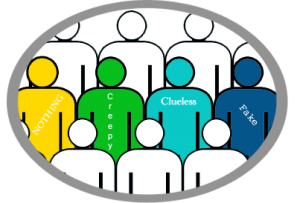 The Unenthusiastic "Musician"– Not to be confused by the "serious musician", this type of guy doesn't see himself really as a musician. He probably started playing because it was the "cool" thing to do and saw it as an opportunity to impress people. He has no ambition to actually play in a band. He just jams with like minded dudes who wear skinny jeans and chucks and wear their hair long because it makes a statement of being a rebel. This gets old.
The Video Gamer/Anime Otaku- This one can actually be quite annoying/scary. You don't ever want to date someone like this. Unless you are equally into anime and video games as he is or if there is a healthy balance and he isn't obsessed with hentai.  If he is just a normal video gamer then that might be ok, but be careful because they can be tricky.
The Asexual- He is the type who doesn't know what he wants. I mean, ok well most guys don't know what they want but I will say this is more true for this particular breed.  He is sort of like a robot and doesn't really understand feelings. I feel as though he just goes with the flow because he thinks it's what he should be doing.
The Writer- He is the kind of guy who will say bizarre things in hopes of shocking you. He's also the type who will expect you to marvel at his literary genius. He wants you to read his work and express your opinions about it…but only if it is helpful. If you're not prepared to offer a thorough critique then don't bother expressing it because he won't listen to it. When it comes to writers you also have to keep in mind that it also depends on the type of writer you have. Stay away from poets and screen writers. Actually I've decided to stay away from writers altogether.
I think I am almost done with the "Creative" guy category. All I need is maybe a photographer or a film student…maybe even a chef? It is difficult dating an artist. But I see myself as a nerdy creative type girl and therefore require that in a guy. Pffft. We shall see what the next guy brings. Also I want to thank everyone for being so supportive in my last post, I promise I won't keep updating such bitter posts.