This past weekend was Pop Shop, which is this amazing craft event that lasts two days and happens twice a year. They have smaller events known as Mini Pops that I've mention in the past but this was even more amazing and being apart of it was absolutely wonderful.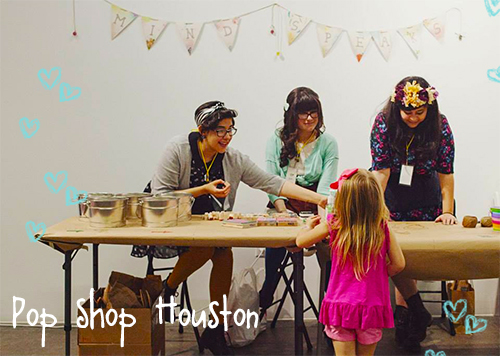 Photo by Marisa Brodie
My sisters and I were asked to host a craft table, we share an art blog known as Mind-Speaks where we each post creative projects that we are working on. We wrote a guest post over at the Pop Shop blog. And of course Mija updated about it over at M-S and on her personal blog as well.
It was a blast, I was afraid people wouldn't be interested in it but luckily there was a great turn out. There were a couple of people who were very enthusiastic about it too. They came back to make more or they brought along friends with them. It was a nice feeling to inspire someone creatively. I hope we managed to do that if not more. The little kids were adorable, the ones that were old enough to stamp the corks down themselves were still young enough to find it magical. But who am I kidding, even the teens and adults thought it was magical. Their excitement after stamping a background pattern was just priceless. There were a few people who just weren't interested and that's fine, but some of those who weren't interested ended up returning after seeing tons of people with the cork necklaces. Even vendors started looking for us.
Jellyfish by Nothing but a Pigeon//etsy//blog
Mug by The Barking Bunny//etsy//site
On to the goodies! I bought this adorable jellyfish to ease the pain of losing a great stewardess bag that only cost 12 bucks!!! >.< I waited and of course someone else bought it. But Mr. Jelly totally made me happy. How cute is he? The artist was unbelievably friendly. Being a knitter myself I always find crocheters fascinating. One day I hope I can learn how to crochet. Correction….one day I WILL learn how to crochet. Moving on, this adorable mug was given to me by my friend Ginger. I was debating whether or not to buy one after she had purchased a set of mugs from The Barking Bunny. But before I went off to buy it, she handed me her bag and said they were for Kat and me. How wonderful is she?! I absolutely adore her.
There were so many things I wanted to buy this weekend, but things tend to be more pricey at craft fairs. For understandable reasons.
Along with the craft fair, Sunday just so happened to be Star Wars day. I didn't get a chance to go to the Star Wars art fair that was happening a couple blocks from Pop Shop. But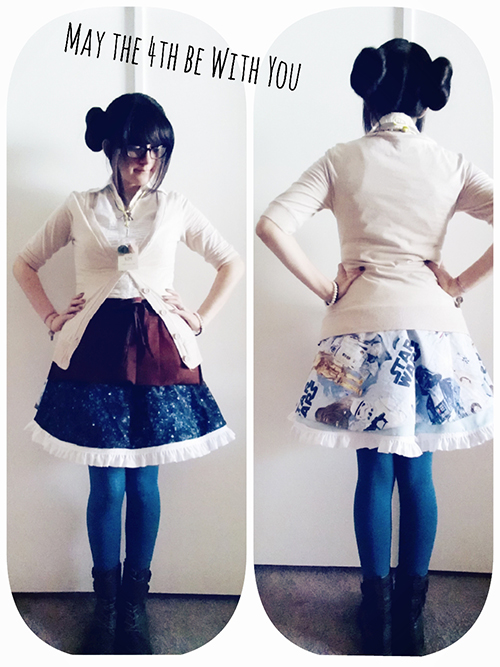 I stayed up all night making this skirt. It was completely rushed and had so many flaws, but I love it nonetheless. It did its job and served me well. I've learned that I should always have trimming, no matter what. I need to buy that stuff in bulk. You never know when you might need something trimmed with pretty ruffles or pleats. Any who, it's filled with tons of mistakes if you examine it closely, so don't do that. I need to buy more Star Wars fabric so I can better prepare for next year. I ran out of fabric so I had to use some left over galaxy fabric I had. But it came out alright for doing it in one night, rushed and messy but I was glad I made something to wear. Did some buns too, Leia buns look more like cinnamon rolls but doing the whole sock bun makes them all round and perfect, so I went with that approach. I was hoping we would make it to the Star Wars art fair, but the line was too long and we were all tired from being at the studio two days in a row. So we went out to eat instead and just relaxed and talked. It was a wonderful weekend, we had so much fun and we hope to continue doing these fun art fairs.
I think I should end this entry now. But before I go, a few small things that I'll talk more about on my next post. Went to an interview for Houston Press on Wednesday. Got the job, and this Thursday was my last day at the deli!!! Also…I've passed two of my grades so far with an A and a B!!!! I made a B in Biology!!!! Crazy, I was afraid I wasn't even going to get a C but I managed to get a B!!! Damn, I'm so happy. This means I won't have to retake it for my science credit. Yay!!! I'm such in a good mood. Ok, more next time…until then.
Thanks for reading and commenting.