My sister and I have always wanted to go on a double date, but we've never been in relationships at the same time so we haven't had that opportunity yet. However, we did manage to go on a double date the other day with Cloudy Chase and her sister. XD That's right a sister double date!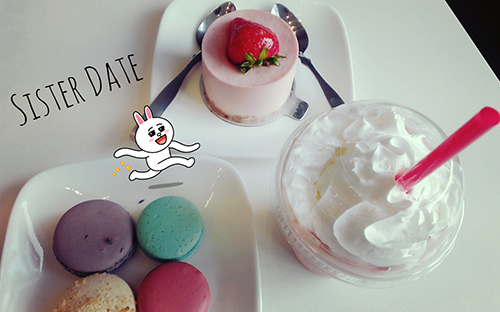 It was a lot of fun! I had Melissa and her sister Michelle meet us at the science museum. I figured it would be a nice treat to show them around my work place at the museum.  I can get people in for free as long as they are with me and my majorly important work badge. :3 I finally got to see the Egypt exhibit, it was a lot bigger than I thought, and there were several mummies. Did you know their coffins were made of wood? I thought they were made of clay or something.  I didn't take as many pictures has I had hope. But that always happens when I'm trying to make memories that doesn't involve me looking at it from my cell screen. But I did manage to take several with my disposable camera. I'm looking forward to getting it developed. I can't wait to see how the pictures look, I'm loving this feeling because its the same I felt when I used it back when I was a kid. I have my fuji instax that I should use, but that always has flash so I have yet to figure out how to take nice pictures with it.
 After we went around looking at the different exhibits we decided to go out for some dessert. Because lets face it, who isn't always in the mood for cake. We took the train to midtown and went to Dolce Delights. Kat and I have been there before on a previous adventure so far they have the cheapest macarons that I've seen in Houston. But that might require more research/eating macarons. :9 I love the plates they use in this shop, I totally want to update our dishware with pretty glass plates.
Excited to see Kat's challenge photos.
These sisters also take pictures… lots of pictures.
While we were ordering, I noticed Melissa had asked her sister to take a picture of her sitting on this green couch. When Kat and I first visited this place, we did the exact same thing! I love how much alike Melissa and I are. >.< She's been traveling a lot this summer but she came back from Korea and bought us some goodies. Oh, she's so sweet! And everything she gave us is just…GAH! So adorable! Once again, Thank you!!! <3<3<3<3
We ended the date with tons of talking…I sometimes fear I talk too much. But that always happens when I'm excited. Hopefully the four of us can hang out again. I always have fun with her and next time we plan to invite them over to our place for a lesson on making Macarons. Kat has been getting really good at it. :3 We came home and after Kat and I ate dinner we passed out around 7:30. I woke up around 11, hate when that happens because here I am at 3 in the morning watching reruns of Friends. And, "In Animal Crossing, " all of my neighbors are sleeping. :/ Well, that's all for now…
Thanks for reading and commenting.