I've never been a fan of coffee. But like many, I do enjoy the smell of it.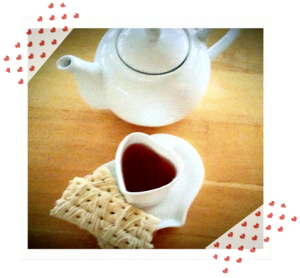 Once it finally gets cold here in Texas I always wish I could just snuggle up with a good book and a nice cup of something warm. I've tried hot chocolate, I can't stand the smell of it nor do I like marshmallows (unless its a rice crispy treat). And even though I enjoy the smell of coffee, I just don't like it. So now I'm left without a drink to enjoy during the winter.
Except wait!! There is tea.
Now I like sweet things, and tea is very bitter so I'm trying to find more ways to make tea more…acceptable. I enjoy a cup of raspberry tea as long as I dump a whole lot of sugar in it. Side note- How cute is this tea pot and tea cup? Too cute. My mom gave me this white tea pot and I adore it. The cup is my younger sister's, she bought it from F.i.t. Its heart shaped and since its white I thought it would match the pot. And make for a cute picture. 😀 But I still haven't found the right amount, sometimes I feel like I add too much and then the aftertaste isn't very tasty. I've tried adding syrup and it sort of makes it somewhat yummy. But its still not the taste I'm looking for. What I really hope to find is a sweet tea that doesn't need any added sugar. A tea that is already the right amount of sweet to satisfy my taste buds. But alas, I feel like my search will never end. Of course with Texas and its bipolar weather its not like I don't have the time to discover this new tea. XD
So do you have any tips to make tea more sweet..besides adding loads of sugar to the pot? :9