I cannot believe how fast 2014 came and went.  This was a hard year for me, and I don't want to focus on the reasons why it was hard, because there are also many wonderful things that happened as well and I should focus on the good and grow from the not-so-good.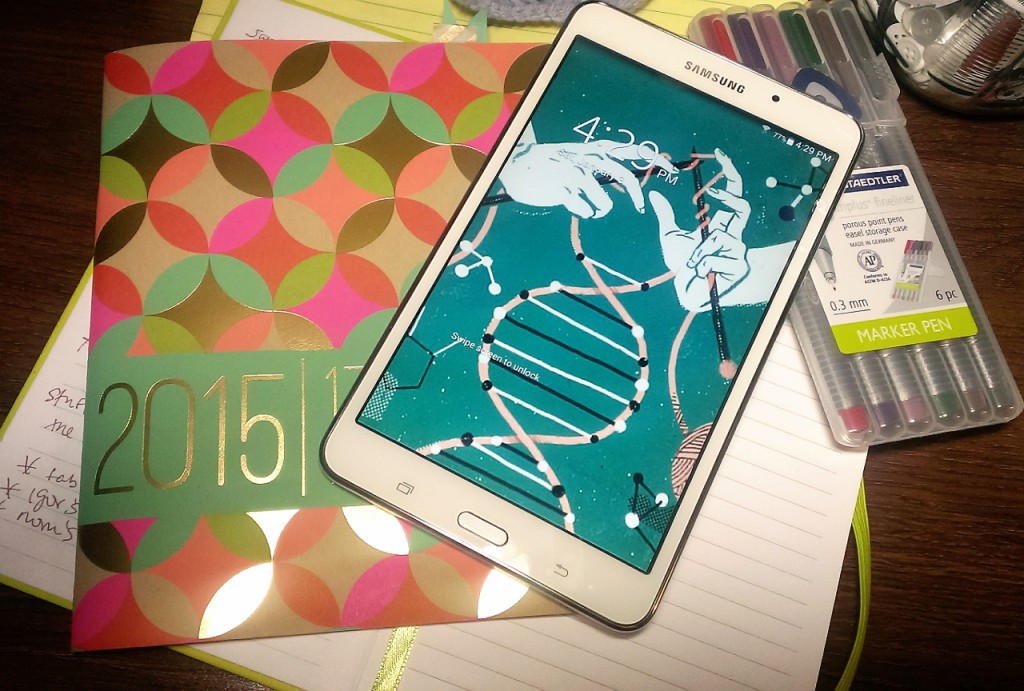 School was pretty hard this fall, but I managed to pass all of my classes and graduation is a lot closer….next fall! So I'm going to work extra hard and do my absolute best. I need to go out with a bang and leave UH feeling positive. Even though the fact that it has taken me THIS long is a huge downer. But hey, that's dwelling on negative thoughts.
So let's make this post about things I'm loving!!! <3
My new planner for this year!!! I bought it from work and it is just adorable. Last year was a hardback special edition Moleskine with Darth Vader on it. I just had to buy it for that reason, but also because of the layout. What I like about the new one is that I can see the entire month. Plus, it's in the color paper bag, which is one of my favorites at Paper Source. I even bought the white gel pen that shows up perfectly on it. 🙂
My Samsung Tab 4! I didn't think I would use it as much as I already have, but I absolutely adore it. It's one of those things that I would have never wanted/bought myself. And if I didn't receive it for Christmas then I would have never known how much I would love it. I had a Nook, but it got stolen, it too was something I didn't think I'd ever want until I was, again given.  So I was given this tablet as a replacement, and I just bought a case for it and I cannot wait to get it.
My new watch! The Bf gave me a watch for Christmas and every time I look at it, I just can't help but get that tingly feeling in my tummy. And then I of course hope he gets the same feeling because he bought himself a watch that matches mine.They're both different styles yet they match each other, it's like us! We are pretty opposite when it comes to some things yet we still mesh well together. :3 I'm learning more and more about him and it really is a good feeling to know that our relationship is constantly evolving. I don't really talk about him too much on the blog, but I think I can slowly change that this year. He even wants me to meet his mom! Which I am extremely nervous about, and I know my parents are eager to meet him as well and it's all very exciting. But again…super nervous!!

In Real Life– I bought this graphic novel the other day on my Nook account, read it on my fancy Tab 4. 😀 And it was just adorable. I've been getting into more graphic novels and illustrators and the art in this one is fantastic. Highly recommend.
Ao Haru Ride– Is a manga I really love and I just found out they made an anime for it. I of course had to watch all the episodes in one sitting, it's just too cute. I also saw they they made a movie too, I'm excited to see that as well. I've always been a fan of the drawings and the opening for the anime is just beautiful. It has this watercolor look to it just like Kimi ni todoke did. Love it! I couldn't find a good video of the opening but you can watch the show on Crunchyroll and read the manga on Tenmanga.
I think I've typed long enough, I do enjoy my bullet points but look how late it already is and my laptop is making my lap over heat. I'm hanging out with my friend Cate tomorrow, so that should be fun. We don't always get to see each other so when we do we talk nonstop, I'm gonna need some energy. So that's if for now…until next time.
Thanks for reading and commenting.