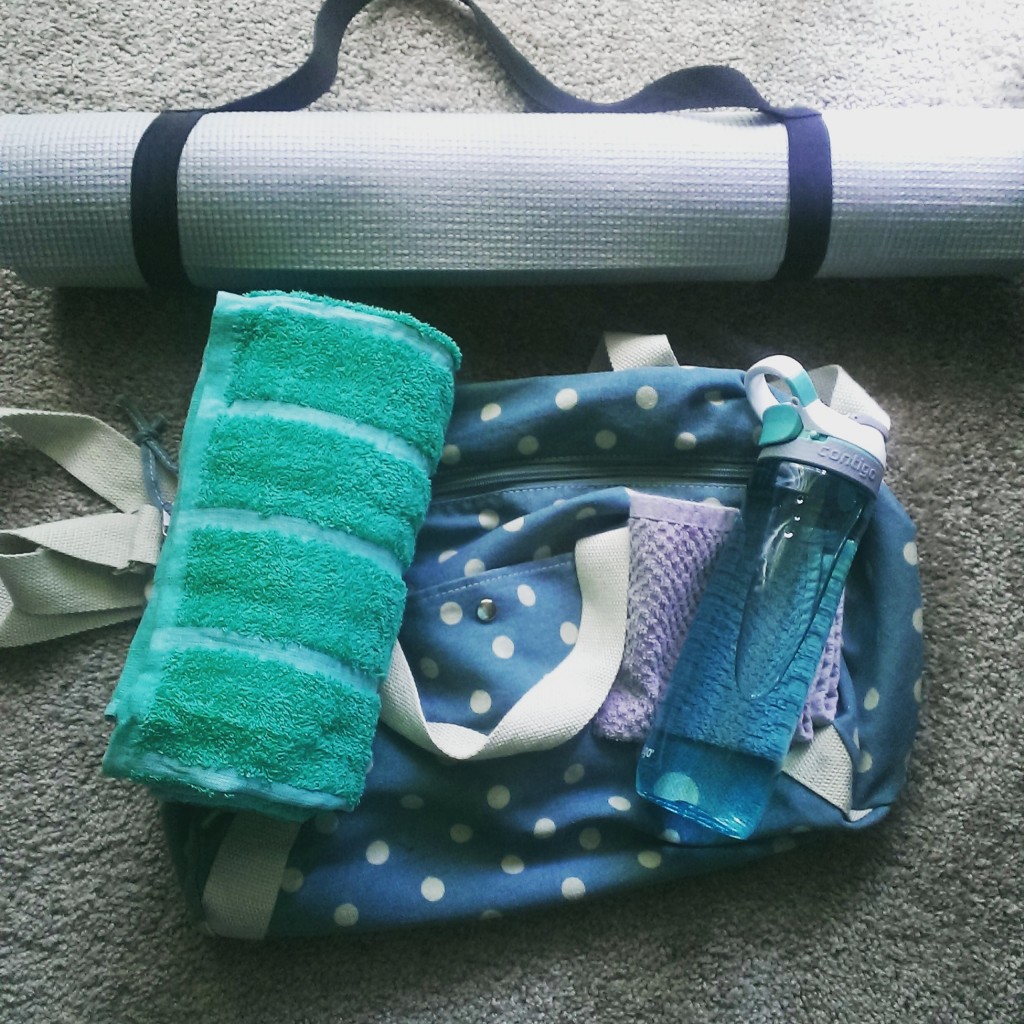 I started going to hot yoga with my sister Kat at YogaOne Studios. It's intense but oddly satisfying, during my first session I kept thinking I wouldn't make it. Yet here I am on day 3. I feel horrible for missing the majority of this week though. I paid for the 30 day, and technically I'm on day 6, I'm hoping to go every other day, but the key is to have fun. After my 30 days, I don't think I'll do the monthly membership but every once in a while I might just pay for the day.
Here are the things needed for hot yoga….
Yoga mat- the studio lets you use one, but I figured I would buy myself one if I enjoyed attending the sessions. I found one at Ross for $8. It has purple, grey, white, teal, and black stripes on the front and just solid grey on the back. 🙂 Thank you Ross.
Water bottle- (EXTREMELY IMPORTANT) you must have water with you when doing hot yoga, I bought this water bottle from Target for $10. I even use it at work, Kat and I just got a water filter so we can start filling our refillable bottles vs using just regular plastic bottles.
Hand towel- I'd recommend a small towel so you can wipe down your face when you sweat. It's hot yoga, so you'll be doing this a lot and sometimes it's distracting.
Long Towel- it's also nice to bring a bigger towel to lay over your mat, drops of sweat may cause you to slip. Having the longer towel is helpful, and can add extra padding when doing certain stretches. There are yoga towels, but I just use a beach towel. They are longer than regular towels and don't cost as much as a yoga one.
Duffel bag- bags are just great in general but I love using this polka dot duffel bag, it holds everything I need.
I'm really enjoying my hot yoga sessions, a great way to detox and just let all of your stress go. I have my sister to thank for introducing me to yoga. Next yoga post will be about yoga clothes and the studio itself….until then. 🙂
Thanks for reading and commenting