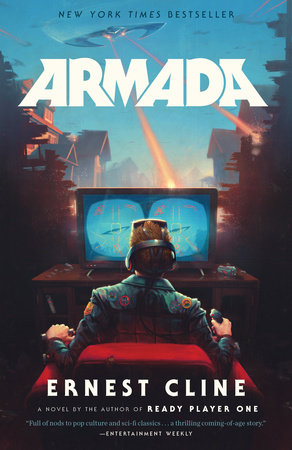 Armada by Ernest Cline
I feel as though this book might be a bit hard to review.
But first! Here's a blurb from the back copy:
Zack Lightman has never cared for reality. He vastly prefers the countless science-fiction movies, books and video games he's spent his life consuming – and too often he catches himself wishing that some fantastic, impossible, world-altering event could arrive to whisk him off on a grand spacefaring adenture.
So when he sees the flying saucer, hes sre his years of escapism have finally tipped over to psychosis. Especially because the alien ships he's staring at is straight out of his favorite videogame.
I've heard a few booktubers claim how this book suffers from second book syndrome. I have yet to read Ready Player One, even though it is on my TBR list, so I can't say whether or not this book suffers from this syndrome or not, but I did enjoy it. It's written in the first person and I love that about books. I love being inside the head of the narrator.
Cover: I have the copy shown above, which is the paper pack cover. I was very happy to receive this edition because  I am a lover of paper backs. However, the hardback cover is gorgeous and gives nothing away to the plot of the story. But if you're familiar with Cline's writing, then you know he loves video game, sci-fi, and music culture.  I thought the cover above illustrated the book wonderfully. Giving it an Alice in Wonderland aspect. How? The mix of reality and fantasy for Zach, the main character. Who doesn't fantasize about being in a different reality from time to time.
I can't really say that you HAVE to enjoy video games or sci-fi to enjoy this book. But I think if you didn't, then you wouldn't pick up this book or his first one for that matter. Knowing his references makes the book hilarious and a bit nostalgic in a way. I think understanding and loving those things make the book more enjoyable. But even if I didn't personally have an experience or a memory with said reference, knowing it makes it fun.
I'm a lover of video games, and even though I don't consider myself an intense "gamer" I do enjoy playing games, so having the knowledge that comes with video game culture…even if only a bit definitely puts you in Zach's shoes as he goes through his life video game life.
I'm excited to read more by this author, and I'm glad I had the opportunity to read Armada before Ready Player One but I don't think it matters. Reading them in the order that they are released allows the reader to see growth within the author's novels.
Happy reading
*I received this book from Blogging for Books for this review.