So I just heard about Google Friend being discontinued.  -.- This sucks. I hate when Google decides to take something, that people use, away. It's really inconvenient, how unfair for non-blogger users, and now it won't even let me export my community data.  So I just wanted to ask the readers I had, if you don't mind, to subscribe to me on bloglovin. It's one of my favorite sites that keeps you updated on your favorite bloggers. Also leave your link,  for bloglovin,  in the comments below so I can follow you too that way I don't lose track of your blog either. Just click here or the typewriter on my side bar to subscribe. 😀 Thank you.
So on Monday, the weirdos and I were gonna head to Ihop for some free pancakes. And then we realized that none of us are even fans of pancakes. I'm more of a French toast or waffle person. Anywho, we decided on eating at Jus' Mac instead.  What is Jus' Mac you ask? Well since you asked, it is this amazing restaurant that serves just mac, meaning macaroni and cheese. But I'm not talking just plain Kraft here.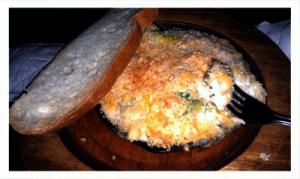 This is gourmet stuff, and so freaking yummy. :9 The first time I tried one of their dishes was when my bro-in law brought some leftovers home. The dish was called The Pit Master: brisket topped with Colby Jack and BBQ sauce. Delicious. I'm from Texas and the BBQ is awesome here so of course there has to be a dish with brisket it in. Then to top it all off is bread crumbs. Eating regular mac and cheese just won't taste the same without the bread crumbs toasted on top. I don't think I can go back to Kraft. >.< I tried something different when we went Monday night. The Broc: fresh broccoli florets topped with cheddar. It was so yummy. Obviously if your not a fan of broccoli then this wouldn't be the dish for you. But they have other ones to suit your taste. The next time we go I plan on trying the Cheese and Chong: seared chicken, sauteed mushrooms, pesto topped with French fried onions.  Can't wait. >.< They offer two sizes personal and regular. I got the personal and it may look small but believe me, it is more than enough. I highly recommend trying Jus' Mac if you are ever in Houston or Sugar Land. It changes mac and cheese. Moving on, so when I came home today Jody had the blinds opened.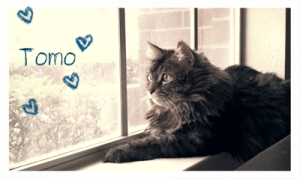 Tomo loves it when the he can peer outside. (what a creeper) He's only ever been an inside cat so he doesn't really know about the outside world. Sometimes there will be stray cats wondering around and he'll get excited/scared and just glare at them. He makes a funny noise when he sees birds outside. It is super funny check out the video below to see what I mean. It's an old video I shot back in 09 to show my sister how weird her cat is. He is sort chirping, I think he is trying to talk to me. Such an odd ball. I'm amazed he can fit on the windowsill. Such a big kitty, also his birthday is coming up. I think he is going to be 4? I plan on knitting him another bow to wear for his special day. He didn't like the last one I knitted for him. But he can wear one for one day. XD
Also my laptop is starting to spazz out on me. The screen is starting to flicker…that's how my first laptop died. -.- I'm seriously doomed when it comes to computers. Please just hold out for the next two seasons. 😥