I desperately wanted to call you my own, but sadly that won't happen, little ball of fur.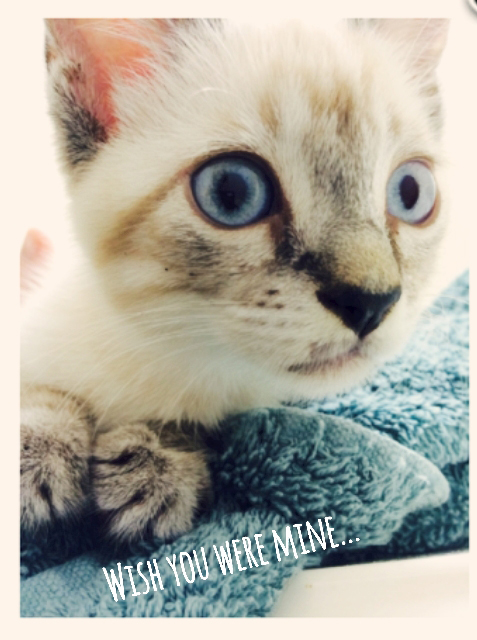 Look how cute this cat is? I've always wanted a Siamese cat, or a Ragdoll one, they always have these beautiful blue eyes. And look at her little paws! Gah! I've never even seen her in person, only this picture and I already fell in love with her. My sister's neighbor found her but couldn't keep her, so my sister figured I could. After seeing this picture I really wanted to. I've always been a cat person, I have two at my parent's house, but they would hate it if I took them away from the only place they've known as home. Besides, they would make horrible indoor pets. They enjoy the freedom of being able to own the front and backyard. And when I lived with my older sister, there were also two cats. They were adorable…minus a few things.
Here are some pros and cons that left me with not getting the cat.
Pros
Adorable little things
Having one is awesome
They are independent
Cuddle with you
Great for small apartments….or big houses
They always stay cute
When they show you affection it's the best thing in the world
And just wonderful
Cons
LITTER BOX!!!
Shedding
Destroying furniture (not necessarily a problem with every cat)
Cost
Again, LITTER!
Many more pros, but I went to my apartment office to ask about the deposit and how much more my rent would cost. 10 extra dollars a month which doesn't sound too bad, but the deposit is 400. 400? And I only get half back if I move. -.- 400 is just not something I can do at the moment, and every pet deserves an owner that can actually afford to take care of them. So sorry little kitten, I wish I could have kept you but it just wasn't meant to be. But it doesn't mean I won't ever be able to own a cat….one day I will. :3
Thanks for reading and commenting.