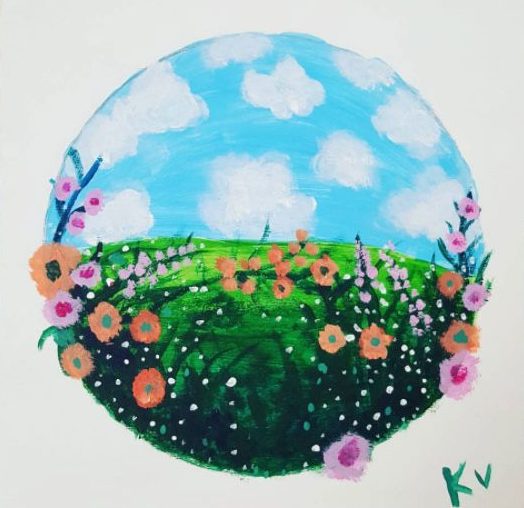 A glance, a look that whispers. You see my smile and one dances across your face in response.  Your hand seeks mine, such a simple act, a hand atop a hand. You bring mine to greet your lips which only adds to my smile. I hope to keep witnessing yours, and wish to add to it as well. 
Matt and I painted this past weekend. Normally I prefer watercolor, but we had purchased some woodblock canvases and painted them white a couple months back so we finally decided to paint them. I got an idea and wanted to work on layering the paint. Here is what I painted and it just made me want to write another cheesy poem. I painted this with a particular gushy moment in mind, several in fact. Every time I walk, or drive with Matt he will hold my hand and kiss it. It never fails and I melt every time he does this.
Ok, I gushed enough in this entry, I just really liked how this painting came out.  Do you like to paint, what's your choice of medium? I've been curious about gouache, is it similar to watercolor? I hope you had a great weekend and that this week is even better.
Thanks for reading.