I've always wanted a travel size watercolor kit along with an aqua brush and ever since I saw this particular post over on Michelle's blog, I've been on the hunt for supplies. This is part of her blog series that she calls Journal Diaries,  she features a guest artist and their journals in each post. Seaweedkisses has always inspired me, she's one of my favorite bloggers. And the other day I stumbled upon the greatest little art store.
I was very bad yesterday, I spent so much money….but let's just ignore that part and focus on the goodies. 😀
Decided to stop by this fabric store in midtown, I've gone in a few times but have always walked out empty handed. One reason being, I'm still a novice when it comes to sewing so I get really intimidated when I enter this store. But today I finally bought some pleather, that's right pleather. And I haven't tried to make anything with it…yet. But I'm already in the mood to work with real leather. Perhaps a bit too ambitious for me, but we shall see.  Anyway, so I bought a yard of that and some sturdy interfacing.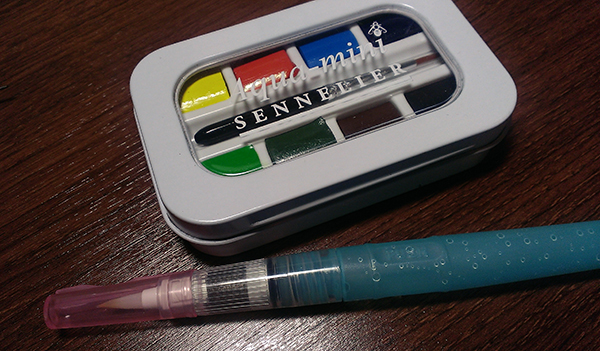 After hitting that store I made my way to the Houston Press office to pick up my first paycheck, have I mentioned how much better direct deposit is? -.- Well it is. But on my way to the office I noticed this art supply store, I've must have walked by this building a million times but have never really noticed what it was. To be honest, I thought it was abandoned and was excited to go and look around. Sitting on the counter was this chick, her head was shaved minus the top part that she pulled into a ponytail and it was this neon green color. She chewed on a pen when she talked to me and asked if I needed help finding anything. I was so overwhelmed with the store that the words aqua brush came out without me even realizing it. She showed me the different ones they had in stock. While I was looking over which one I wanted she asked me if I was looking for anything else, and again my voice just answered on its own. It was as if my brain were on autopilot, answering the neon girl's questions while I examined the brushes.  She showed me the only travel watercolor kit they had and then returned to her position on the counter. After deciding which brush I wanted, there were multiple sizes and I have decided on buying more later, I looked at the watercolor kit.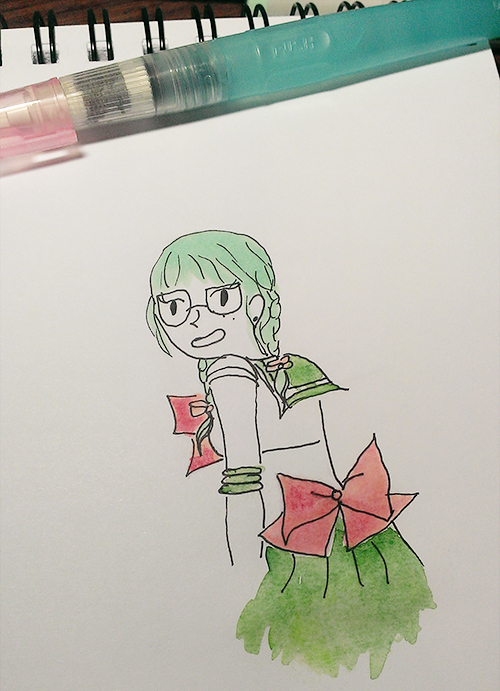 Luckily, she offered me a 20% student discount. Didn't actually help too much though but I was still very grateful and I'm in love with the items I purchased. I painted a few pictures using the brush and my normal watercolors. I also have tube watercolor, I'll pull those out when I'm home and use the pallets for when I'm out and about. Still painting my character with minty green hair, I think it's a great color and would love to sport it myself…if only my job would let me. >.< I'm thinking of getting some extensions and just dying the ends of those and then use those as a compromise, I've never dyed my hair before so I don't know how it will react to it.  Also, my drawings tend to come out with an awkward smile, almost as awkward as mine in real life. hehe
 Well, I'm off to paint some more, let me know some of the art brands you like to use. Also, if you've dyed before, did you notice a huge change in your hair? Until next time…
Thanks for reading and commenting.