Spring break doesn't start until Monday but it's now the weekend so I am officially on break! Aside from having to work still…and study. :/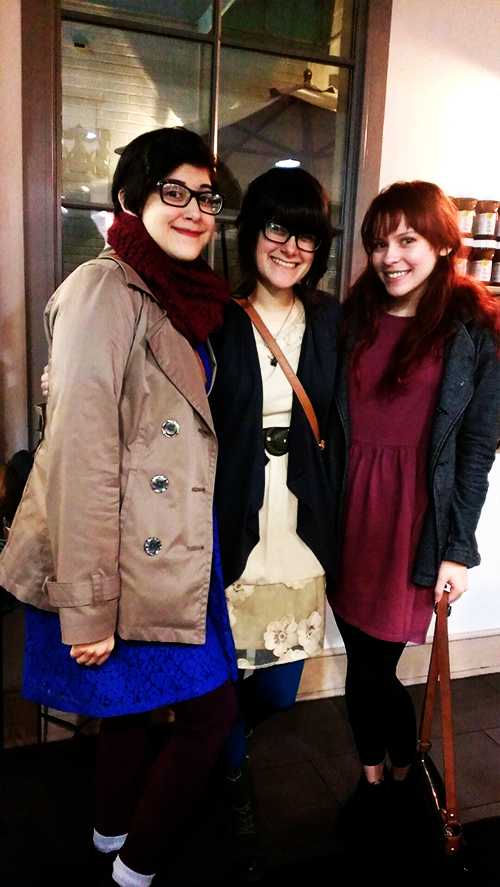 So Thursday I had the chance to hang out with Cloudy Chase again, she and I had made plans to go to this event at a bar called Mongoose vs Cobra. But thanks to some lovely unforeseen changes we ate dinner at my place, made by my sister Kat, and then went out for some crepes at Sweet Pairs. I had such a wonderful time, and can't wait to do it again. :3  Continuing on with the rest of the week, yesterday I went to a free concert at Discovery Green with the Boyfriend and his roommate. We arrived a bit late, but we managed to hear and see a bit, unfortunately the night ended on a sad note.It started off great, we listened to the last set of the French band La Femme, they were actually pretty good, and I bought macaroons for us. There were a few tents up that hosted different French cuisine. Sweet Pairs was there, which is where Kat works so that's how I found out about the event. Those tasty macaroons are so expensive yet so yummy. Unfortunately when I was trying to share mine with the bf I ended up dropping them both. -.- I'm such a klutz, all we could do was laugh it off. They were from a place called Bite Macarons, a shop located here in Houston. I didn't even take any pictures, bad blogger! >.< I was in such a hurry to eat them, I bought a chocolate, vanilla and a black currant. Mine was the chocolate and a dog ended up eating the piece that fell. I felt horrible, what if the dog got sick because of my clumsiness? I worried about the ewok dog for the rest of the evening.  The bf kept reassuring me that he would be fine, I told the owner I saw his dog eat something, just wasn't sure what it was. >.< Hope he's ok, dogs can get really sick if they consume chocolate. Went there for some cultured fun, ended up trying to poison someone's dog. Moving on, after the concert we went out to eat at BB's Cafe, I'm extremely picky when it comes to seafood. I only trust, my dad's cooking. So once in front of the menu I was really scared, there weren't any safe options. I sided with chicken tenders from the kids menus, it was already late and I know my stomach, it would have not ended well. On our way home, bf's roommate got a call, his mother had an accident. It was a horrible way to end such a fun night and I hope his mother is doing well, I have yet to receive any news.
I'm off to finish up some Bio homework, enjoy your weekend. Here's the full album of La Femme, give it a listen and let me know what you think. :3 Until next time….À bientôt!
Thanks for reading and commenting.