Today was my off day, I had planned to go out grocery shopping and actually buy some mailing envelopes so I could mail off some packages!!! >.< I'm such a bad penpal! I promise I'll get it done on Friday, that's my next day off. But instead I spent this lovely day taking pictures and eating delectable sweets with Kat.
She had been wanting me to go with her to visit this dessert shop called, Dolce Delights, and since I had mentioned macarons in my last post I was in the mood to try some more. I love seeing/tasting the different flavors that each shop makes. They are definitely tricky to make, Kat and I tried awhile back to make them, hopefully we try again. Anyway, these macarons were $1.75 I believe, and that's the cheapest I've seen here in Houston. So I went a little crazy and bought 7…plus a vanilla frappe. >.< So I indulged a little, it was totally worth it. I think my favorite was either the chocolate mint or the strawberry. They were all very yummy and I hope to try more flavors next time I go. It's not something I can do very often, but I plan on going again. Today was really windy, but it felt amazing outside. It was absolutely gorgeous I hope this weekend is just a nice. I still need t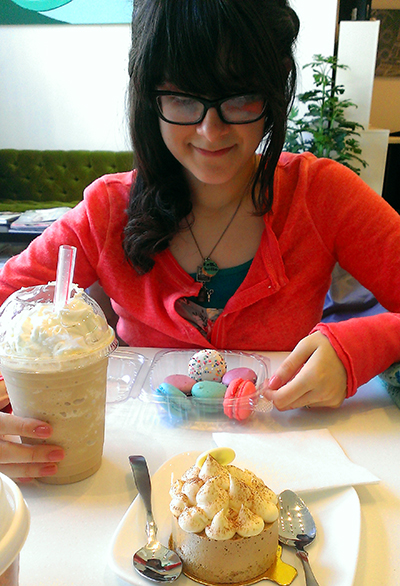 o go grocery shopping and would love it if it didn't rain. Anyway, continuing on with my day, after eating sweets Kat and I went to High Fashion Fabrics and I found some pleather. I've been wanting to buy some and make some folded clutches with them. But the pleather there ranged from 14.99 to 22 bucks, so sadly I will have to wait a bit until I can practice making things. I got some extra hours this spring break so hopefully I can use some of that money for Mind-Speak things. The fabric store had a lot of nice fabric but we didn't stay very long, I only wanted to see if they stocked pleather and didn't want to get distracted by other things. But I plan on making some cute pleated aprons for my sisters and me. I want to try embroidering names or the word Mind-Speaks on it. I also want to try some picture transfers to fabric instead of buying iron on sheets. So need to research some fabric transfer tutorials.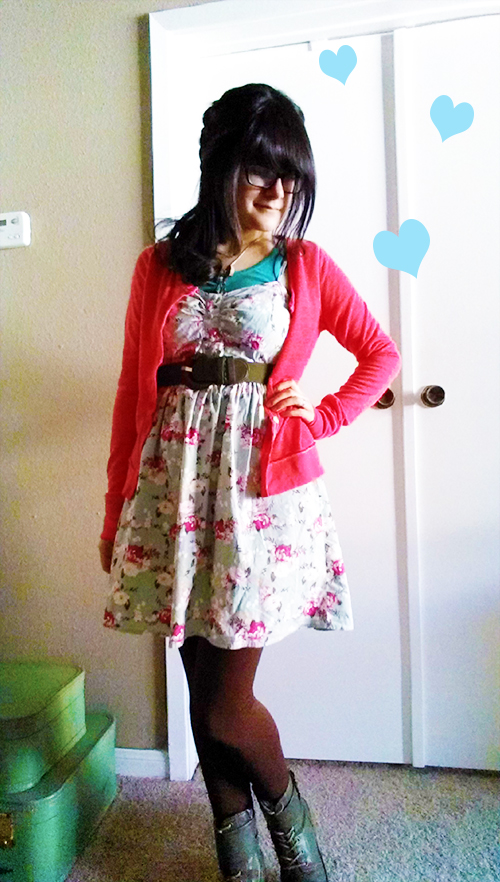 I couldn't decide which pictures to share in this entry, Kat and I took a lot….and I mean A LOT today. I also shared today's outfit on the modcloth style gallery. The other look got 103 likes. >.< I love styling my outfits, and I've styled this one before, but tried something different this time. Layered it with my salmon? Coralish cardigan this time instead of my cream quarter sleeved one. And this belt is my new favorite accessory, it goes with most of my dresses since I wear a lot of cream and mint. That's all for now…until next time.
Thanks for reading and commenting. :3