I had myself a wonderful Valentine weekend and I hope yours was just as wonderful.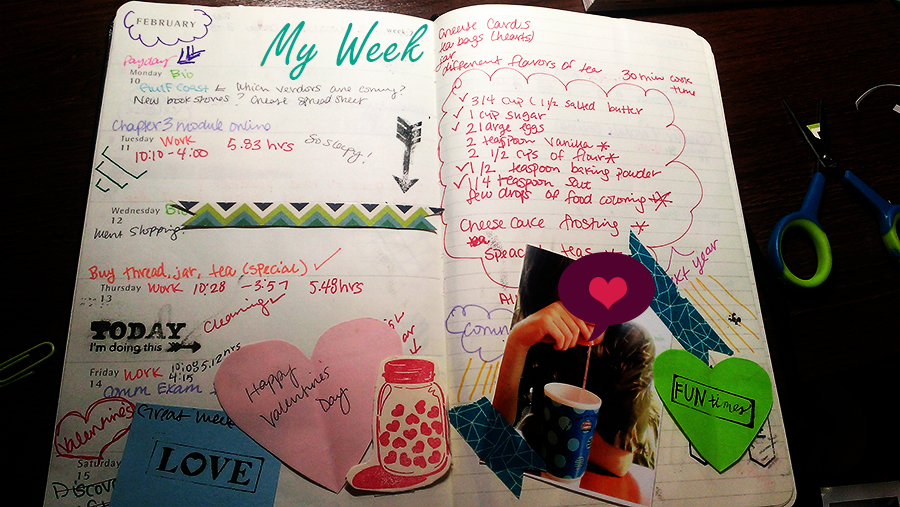 I seem to be filling my planner with more things than just my weekly plans. This is how this past week turned out, with Friday being Valentine's I had a busy weekend. First off, I worked on Friday so I had to rush home and shower so I could be ready for The Boyfriend. We just stayed in and watched movies and ate sweets. For Valentine's I made him heart shaped teabags, because he's a tea fanatic. I also gave him a bike necklace that I bought at Houston Mini Pop Shop. I'll post about that sometime soon.  And once again, I'm respecting his wishes to not be uploaded to the internet. So his face remains covered. Saturday we met up and went out to eat, we went off in search of discount candy. He bought me some washi tape and scrapbook paper, he's adorable. We also went bike riding on our quest for cheap candy. He bought me peanut m&m's, which are my favorite. I made him watch the romantic comedy About Time, an adorable movie btw. I love that he humors me and watches all these girlie movies but I promised him the next time we will watch a thriller or an action movie. XD This is the first time I've ever been in a relationship on Valentine's and it was nice but I've always thought the holiday was nice. I don't think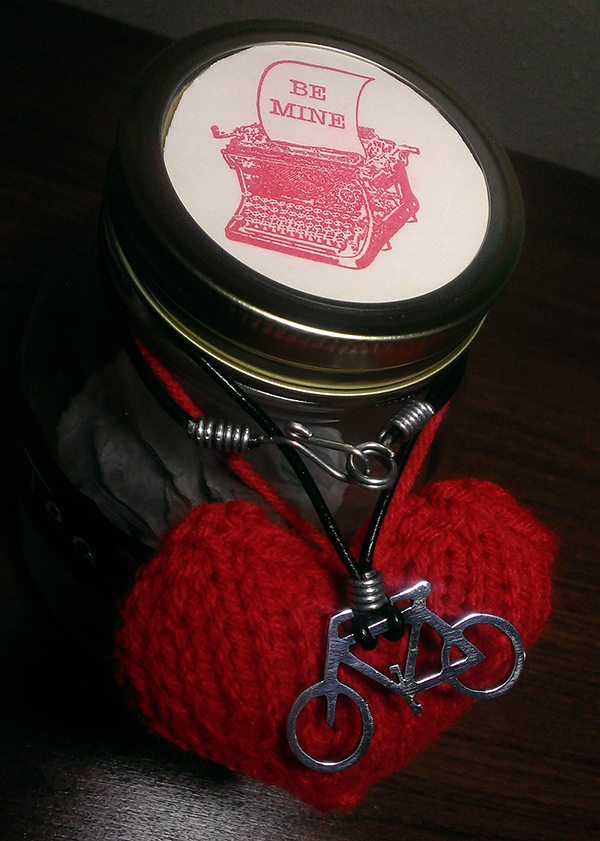 there should just be one day devoted to showing how much you love someone. Family, friends…ect. You should try to show that love every day in some way, it doesn't have to be in some extravagant way but something as simple as a phone call or a letter can make someone feel good. But I really wanted to take part in the cheesy aspect of this holiday. So instead of giving sweets I went with the heart tea bags. I love crafting, so I picked out different types of teas and deconstructed them and created heart shape bags for the tea leaves. When I gave it to him, he was surprised and seemed to have really liked it. He wanted a cup of tea right then and there. He loves handmade gifts…at least that's what he's told me. >.< I also knitted him a heart, because frankly I adore knitting them and it was the perfect decoration for the jar. The necklace was made by an artist I met at Houston Mini Pop Shop. Again, I will mention more about that event in my next post. But just know he is amazing!
This was an amazing weekend, but now I return to work and homework and my feet are killing me. >.<  Today's song is most fitting…A Day with You by Daniela Andrade [audio:http://numb.honey-vanity.net/wp-content/uploads/2014/02/ADayWithYou-DanielaAndradeMusic.mp3]
Thanks for reading and commenting.