Some of you might not know this, but my sister's and I share a craft blog, Mind-Speaks, that we "try" to update monthly. We fell behind on updating towards the end of 2013 but hopefully we can start updating it again. Mija gave the site a facelift to make it look more professional this year. I absolutely adore it.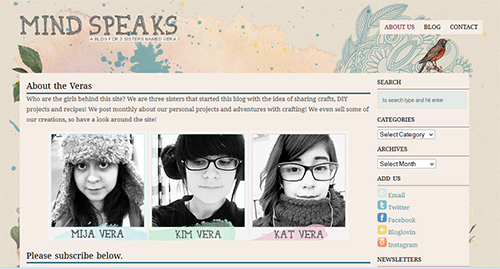 We hope to open our Etsy store as well, here's a list of things we plan on selling.
The product list is still being decided but so far this is what we are thinking of making and selling for our store. I'm on a quest to find pleather so that I can make assorted clutches. I've never used pleather or any other imitation leather before so I'm hoping I can start that soon.  Also this Sunday my sisters and I plan on attending Mini Pop Shop that is hosted here in Houston. If you're in the Houston area and love DIY/crafty things then this is the event for you. We plan to scope it out and then hopefully sell some of our own products at a future Pop event. :3 I love that things like this exist in my city, every time I tried to go to a previous one it was either cancelled due to weather or something else came up. So I'm hoping Sunday will be the day I can finally go to one. There's also one on March 9th in case you can't make it to this one. If you're not from the area, then you should look up craft fairs in your own city, you could expose yourself to something new and different, maybe even meet new people and create new friendships.
I've been trying to take more pictures of myself lately, I'm tired of people viewing "selfies" in a negative manner. I usually post pictures of food or sometimes of things I'm knitting, I used to take daily outfit pictures, but I just suddenly stopped. Since I work three days out of the week, I'm usually in my work uniform. So I want to try to take pictures during the days I don't work. Having my sister take this one made me feel really happy, especially after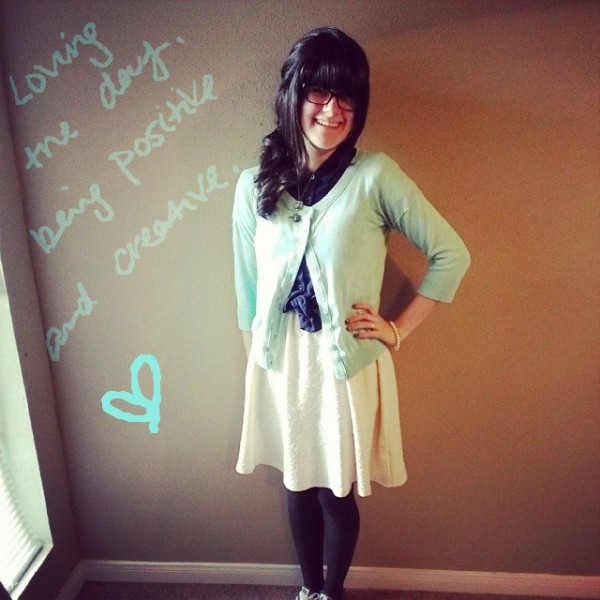 today's test. Just because you post a picture of yourself does not make you or anyone who does, vain. I think people should post more pictures of themselves as a way to express self appreciation. You should love being who you are, not just physically but emotionally as well. I love wearing mint, and I haven't posted a daily outfit in forever, so ta da! I'm so looking forward to this weekend, but I still have Thursday and Friday to get through and another test just happens to be standing in my way. So I should be using this time to study before then. Here goes nothing.
I'm currently in a bright mood and I wanted to share that with others. I hope all is well with you and your loved ones and until next time,  thanks for reading and commenting. :3