As always, my birthday was a blast. I didn't think there was any way to out do last year's Star Wars exhibit. But boy was I wrong. I was born on September 11, 1989 at 3:something p.m. XD
My family completely surprised me this past weekend and came to Houston to take me out to dinner. They bought me balloons, donuts and peanut M&M's. I wasn't expecting anything and they just went above and beyond. I had no idea. One of the bigger surprises was the gift Jody and Mija bought me. Not only is Mija taking me to see the musical Beauty and the Beast but they bought us each a 3DS. I'm obsessed with my DSlite and never even thought of upgrading to the 3Ds, not until it became obsolete anyway. So this completely blew my mind. Jody got the new 3DSxl, and the screen is HUGE! My sister's and I each got the first edition and I'm already obsessed with it.  We only have Mario Kart 7 but it is so freaking cool. I'm actually not a fan of the 3D feature, which I know defeats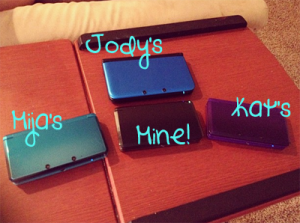 the main purpose of the upgrade. But that's not the only cool new upgrade. I love the streetpass feature. I take it with me when I go to school and I usually pass someone with one on campus. I've only had four people, but that is pretty awesome. Of course now every time I pass someone I think to myself, I wonder who has a 3DS? I'm determined to get those puzzle pieces!! XD This month has just been amazing, so much has happened and is happening and I'm just loving every minute of every day. So this is what I wore, I actually really love this outfit and I've worn so many different variations of this outfit but I never get tired of it. I always feel confident when I wear it, so I thought this would be the perfect outfit to wear on my birthday. When I got home I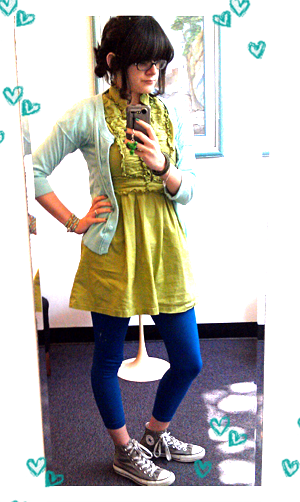 ended my birthday with Mija and Jody. They bought me Potbelly and a cake and sang happy birthday to me. This year's birthday was just surprise after surprise. It reminded me how lucky I am to have my family. They are just the best!
Tomorrow, (later today I mean) I'm going to a reading that is being held on campus. ZZ Packer will be one of the authors giving a reading. Apparently she is teaching on campus this semester. Had no idea. So I thought since I'm going through creative writing withdrawals I should attend as many reading events as I can. And this one is on campus and I'll be there anyway so why not? It's starts at 5:30 and my class ends at 5:15 so I should be able to go.  And then Thursday I'm having dinner with my friend Liz, I'm excited I haven't seen her since May.
Well I hope everyone is having a great week. 😀
Thanks so much for reading.