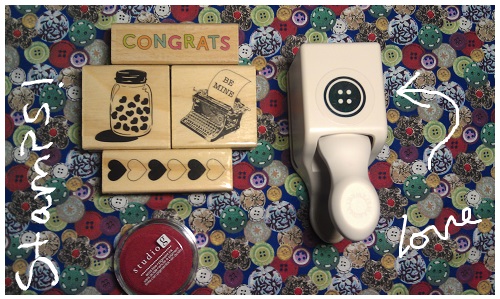 So I went a little crazy at Micheal's the other day. I couldn't help myself, I saw all these stamps for a 1.50 and just had to buy them. I mean look at that adorable typewriter stamp. I love typewriter stamps and this one just so happens to be a Valentine theme. I bought three Valentine stamps, so now I intend to make Valentine cards. Maybe add a cute lollipop or some type of candy to show the people I love how much I love them. Who knows? I also bought a button puncher. I love it! It makes a great embellishment for cards, scrapbooking, even gift wrapping. I've been wanting it and the cute tag puncher as well, but decided on this one. I feel very crafty right now.
I even used my new stamps to make my mom and tia Debbie birthday cards. What can I say? I'm obsessed with making cards. Kat and I went walking around Rice Village and found this adorable store that sells scented soap.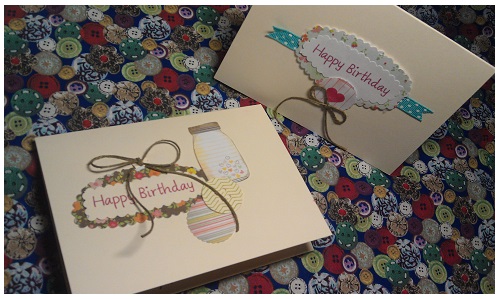 I had wanted to find Fleetwood Mac's Rumours on vinyl but since the band has gotten back together everyone has been on the hunt for this album. Their best. My mom is the person who introduced their music to me. I might have been 14…maybe even younger, I can't remember. But Mija bought me the vinyl when I turned 18. Seeing as mom got her own record player for Christmas,we now want her to have her own copy. So we have been looking for it. Hopefully we find it, we can always give it to her for Mother's Day. 🙂
[audio:http://numb.honey-vanity.net/wp-content/uploads/2013/01/DONTSTOPbyFLEETWOODMAC.mp3] Fleetwood Mac- Don't Stop. I love the entire album, but this is one of my favorites.
We spent last weekend at my parent's house and it was also the weekend before classes started. I spent the end of last week trying to get my sleep back on a appropriate schedule. Only worked for like two days and then I was back to staying up most of the night and into the next morning. So bad. I miss being home, but I think this semester will be a good one. I really like the time slots I picked, Tuesday, Wednesday and Thursday, I get home before 5. So that's awesome. Oh, this past Monday I got to hang out with some old friends.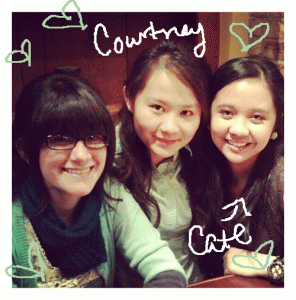 It's been about six years since the last time we saw one another. So it was a very nice reunion. My junior year of high school I had become friends with a circle of exchange students. Courtney (reunited friend from China), Hiromi (Japan), Icz=Ice and Nuey (Thailand).  And then Ngan and Cate weren't exchange students but they were also part of this circle. So the four of us,Cate, Ngan, myself and Courtney all met up for dinner Monday night. Turns out, Courtney lived on my current street in a different apartment complex for two years and we never realized it. Getting together with them brought back so many memories and it was as if we had never been apart from Courtney. It was wonderful. Both Courtney and Cate are registered Nurses and they both work in Houston now. I hope this means I will get to see them more often. The only problem is, it's harder to make plans that fits everyone's schedule.  Ngan had to leave soon after I arrived, reason why she isn't in the picture to the left. Hopefully we will have more time to hangout together next time.
I already have homework. :/ I wish everyone a great semester, if you're also in school, if not? Then have a great week, month…year. I should get some sleep, I don't have class tomorrow, but I do have my internship. Night world.
Thanks for reading. <3