I don't know why, but I'm in a bit of a blogging lag. I guess finals left me feeling a bit lazy and not wanting to work on my computer. Good news is I passed all of my classes, now just have to keep moving forward. This summer I'm taking statistics and a Spanish class. I'm a bit scared, not sure how this will turn out.
So I've been planning on visiting a shop that sells macaroons for awhile now. And last week I finally got around to trying this shop. So cute, but they didn't have all of the flavors that I wanted to try. But that just means I can go again and again until they do.  I updated awhile back about trying to make these little boogers. So tricky, but they still came out rather yummy. My sister made ours with a jelly glaze filling. The ones we tried at the store had a cream filling. It's not something I will eat often, but every once in a while they will make for a nice treat. I think buying tiramisu is a lot more satisfying.
So the flavors I tried were:
Chocolate
Chocolate Hazelnut
Blueberry
Pistachio
Cookies and Cream
Chocolate Raspberry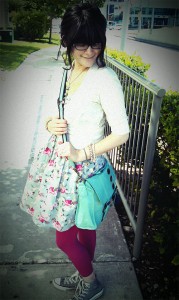 Before the siblings and I went to Petite Sweets, Kat and I spent some time in Rice Village. I had some books to sell and was hoping to get some cash. Only got five bucks back but it became bus money. After that Kat was hungry so she grabbed a sandwich and we waited in the air condition until the bus came to take us to Mija's office. We were pretty early so we decided to take some pictures. Finally get to update about the new bag I mentioned in this post. I also found the same bag but in different colors for my sisters, Mija and Kat, we have serious matching issues when it comes to some things. The cool thing about this bag is that it can be worn three different ways. As a brief case, as a messenger bag and then as a backpack.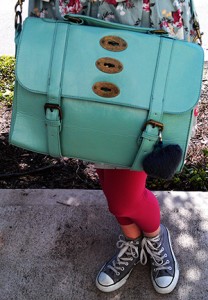 We each wear them differently.  So Kat and I decided to have a mini photo shoot because it's not vain when you have someone else taking the pictures. >.< The weather was hot, but there was a breeze every now and then and it made for a nice day. One of my favorite things about this bag is that it matches most of my clothing.  For some girls it's shoes, others it's jewelry, for me it's definitely bags. And I've been wanting a satchel type backpack/messenger bag. I plan on making it some different straps to use when wearing it like a backpack. Using just the one strap seems to put a lot of stress on the pleather and I don't want to ruin it. A project to be discussed in another entry.
So, what are your favorite accessories to shop for? Is there a section you gravitate when shopping or do you prefer shopping online? Ebay is sure makes it easy to develop a shopping addiction.
Thanks for reading and commenting.