Last weekend my sisters, mom, and I went on a trip to Austin for my younger sister's 24th birthday. She works at a hotel and she get's mega discounts so she got us a room in a beautiful hotel in downtown Austin.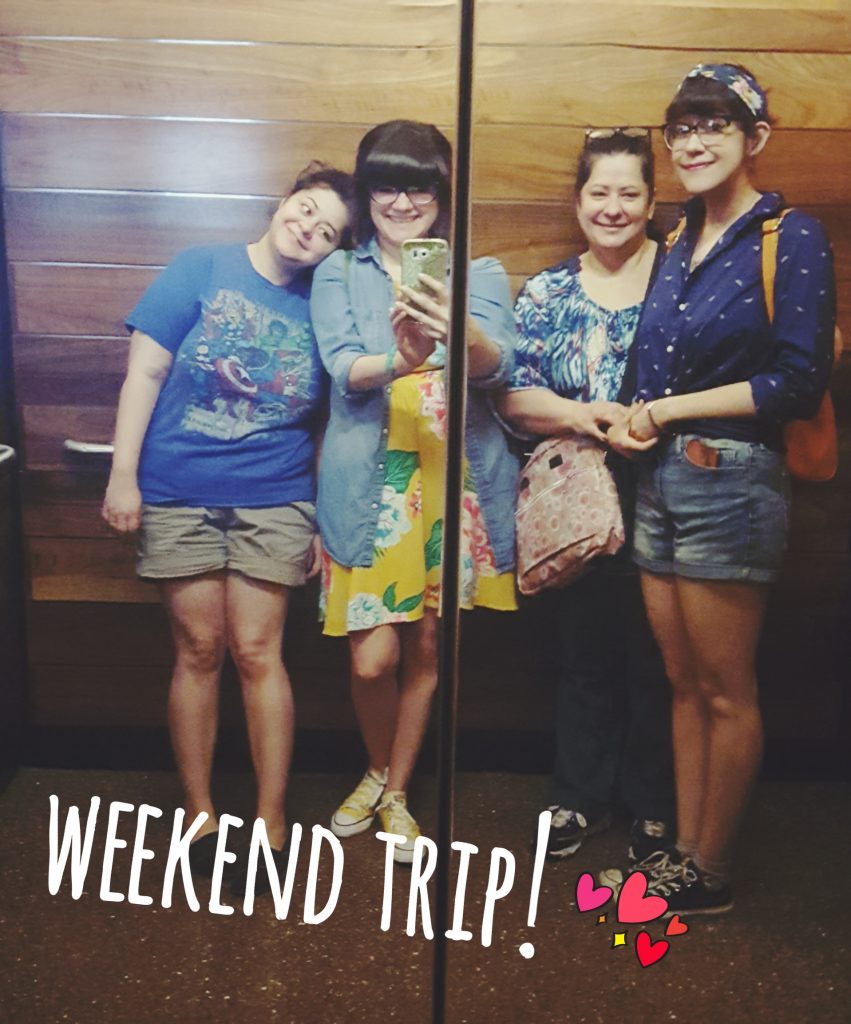 Two queen sized beds with the most comfortable bedding ever! This 4 day weekend was the perfect time for our little trip. I got off early on Friday and then Kat and I headed to Mija's place to pack up in her car. (GPS and whatnot) We got to Austin late, so we had a burger at IN-an-Out and then headed to the hotel room.
We woke up early  and started off our day by, of course, going to Modcloth! And this time I tried on more clothes and….even bought something! I bought my first Modcloth dress and I'm hooked. I sort of wish I bought dress #2 that I also liked, but Modcloth is pricey. Even with the discounts, due to Memorial Day weekend, 15% off everything…20% off of things over $100, plush FREE shipping due to ordering in the store.
I loved wearing these dresses, but it was hard to choose between the two of them. They were the same priced and they both had pockets. POCKETS! We all know that makes a dress better. The yellow one was a bit tight fitting, had I eaten a meal, it would have been too tight for comfort. But the larger size was too big on the top. I'm in between sizes…so if they could have something in between a medium and a large…that would be great. Oh well, it also depends on the dress. Because the one I did buy was a medium and it was a perfect fit. Not too tight, not too loose. They made me feel pretty. Another reason I didn't buy the elephant dress, was even though the print was pretty, I don't think it was very "me". I'd probably pair it with a different color cardigan. I may purchase it in the future… hopefully when it's on sale. Or perhaps they will have the same style of dress in a different print that is more me.
We stayed in downtown for the entire weekend, walking everywhere! We even made the walk to Book People, a cool book store located not too far away, but in the Texas heat it was a bit taxing. Plus, we had to make the walk back to our hotel so we were pretty tired after that. We made our way back to the hotel to cool down and just relax a bit.
It was a lot of fun spending time with my sisters and mother, our schedules are so different that we don't always get to see each other. I hope Kat had a great bday weekend, I was happy we got to spend that weekend with her.  That's all for now…until next time. 🙂
Thanks for reading