So as I mentioned in my last post, I went with the weirdos to a craft event that is held here in Houston and hosted by Pop Shop Houston America. This was a mini version of a large event that happens I think twice a year? I could be mistaken so don't quote me. I was pretty excited to go and see what each vendor had to offer. Plus, just being around creative people is inspiring and motivating.
The first thing we saw were painted plates and cards then several tents that had vintage clothing. We moved on towards the booths that had jewelery but I stopped and noticed a woman sitting at a typewriter with the sign Poems for Sale Barter or Trade. So I traded her a marker that I had in my bag and gave her the topic of motivation. I wanted something to remind me when I need an extra push of motivation. Next time I'll ask for one that's about positivity. She began typing away, the look on her face while she was typing was complete focus. You could see her pull out words from nowhere and somehow create this well thought of poem. I could never write something like that on the spot. Her name is Traci Lavois and you can find her over here. After receiving my poem we walked on over to this table in the corner.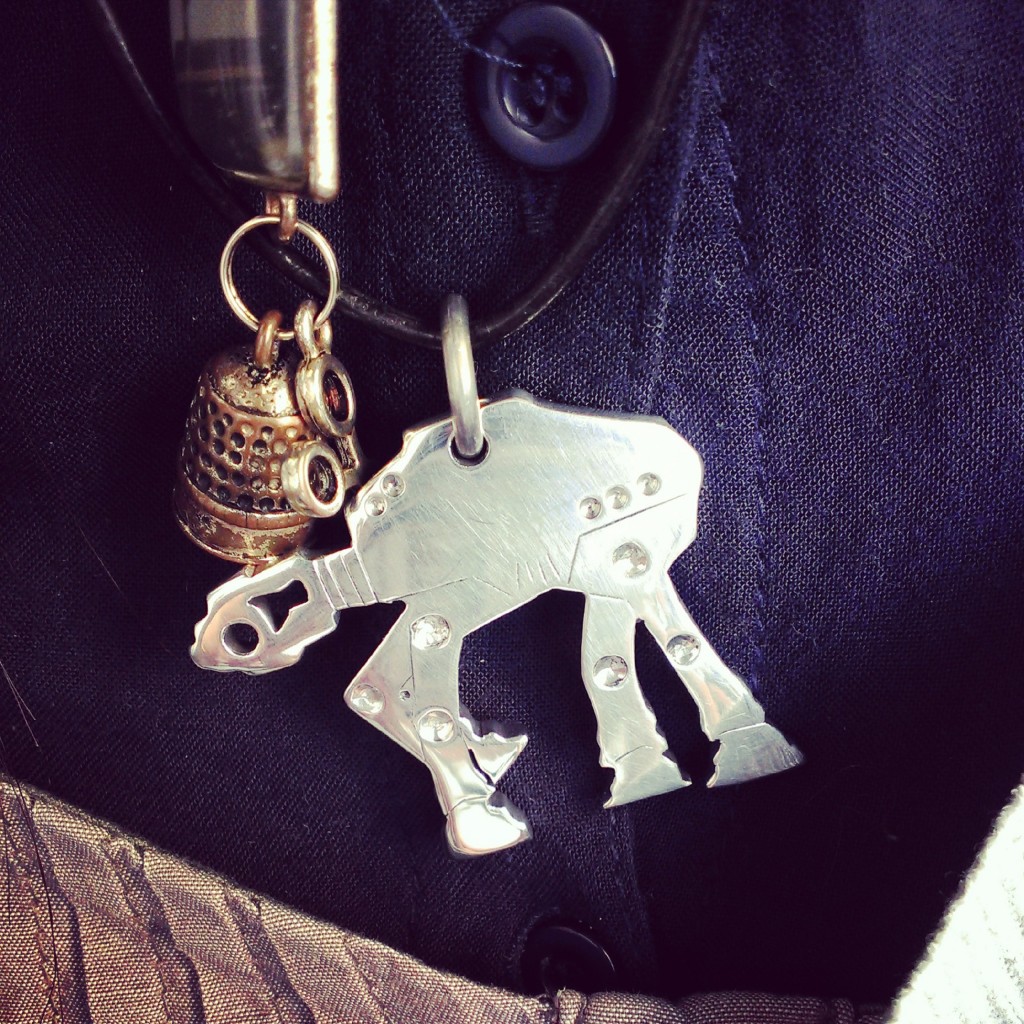 On the table were different types of jewelery…rings, bracelets, and necklaces. I was in awe. They were amazing, and there were something for every type of movie addict, gamer, and music fan in the world. AND….he does custom orders. You can find his work over here. These are great as gifts, because even if he doesn't have something you're looking for, just email him and send him a design you're interested in. He does plaques too, so we're hoping to request one for father's day. And I wasn't sure which one to get the boyfriend, but since he bikes and bought me a bike for my birthday, (I never mentioned that did I? >.< Well, he did.) I thought getting him the bike one was the best choice. Maybe next time, provided Yamin is there, the bf can pick one he likes more. Because frankly, it's not like you could own too much. We also want to request Mind-Speak key chains for the three of us. Just something to inspire us to continuing working on MS. So there were tons that I wanted while browsing, however I had only enough cash on me to purchase two and my goal was to buy one for the bf and for Kat, as a Valentine gift. So I bought the bike and a Dr. Who one for the little weirdo. There were so many Star Wars ones, but I couldn't buy it. So I went on browsing and when I rejoined the married weirdos, Jody told me that the AT-AT was gone. While I was bummed he had put it around my neck. The sneaky Jobro bought it for me along with a mushroom bracelet for himself. Then we went halfsies and bought Mija a Day of The Dead skull. Great purchases and totally want more. The craft fair was wonderful, and I can't wait to attend a larger scale one that is coming up in May, but until then there is another mini one coming up in March so I have that to look forward to.
Any craft fairs in your town/city? If you're not sure, try looking it up…you'd be surprised what gems you might find. Houston continues to amaze me, I really enjoy living here. 🙂 That's all for now, until next time.
Thanks for reading and commenting.