So I updated M-S the other day. I made a fold clutch following this tutorial. M-S is the space where my sisters and I post about our projects.
My older sister Mija, is a Graphic Designer, she is the creator of my wonderful blog layout and also of the M-S lay. So she freaking rocks. Kat, my younger sister, is working to become a pâtissier. She is developing her cooking skills and updates her creations on M-S.  And I update M-S, with fun sewing and knitting projects that I teach myself how to make. We take turns updating once a month and its a way for us to express our own personalities and creativity.
So my mom and Kat are here this weekend and my bro-in law Jody, took us out to dinner last night. We at Genghis Grill, and it was AMAZING.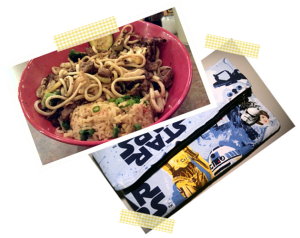 If you've never been before then you must go, I insist. :9 So they give you this small bowl and you start off by picking you're protein. I packed as much sliced beef and marinated beef as I could. Followed by some crab bits, shrimp, and calamari.  Then you pick your seasoning. I just sprinkled some pepper, lemon pepper and bit of salt on mine. Then you move on to veggies, I added some mushrooms, zucchini and squash. You  pick your sauce, I chose teriyaki, and then pick your starch. I chose two, veggie fried rice and udon noodles. :9 Now if you are unsatisfied with your dish you only have your self to blame. Because you're the one who basically made it. I was very happy with my combination of food. Next time, I think I'll stick with crab, sliced beef and maybe a few shrimp. I was determined to pack as much food in that little bowl as I could. Its a lot of food, I couldn't even finish my bowl. But that just meant I got to take home leftovers. XD If you have tried this place before then let me know the combination's you've tried.

Here's another song I wanted to share. Cameo Lover by Kimbra. I've seen a few different versions with my name in it. The most interesting one is Kimberla. XD Never met anyone with that name but I noticed an author with that name and found it very interesting. Kimbra is another unique one, even her music and videos are interesting. I'm loving her music. If I could cut my hair that short I would. XD
So I want to know, I'm thinking of making a few clutches to giveaway on M-S. Would you be interested?