So on Lazy Explorers, Chloe gave out blog Valentine's and I just fell in love with the whole idea. So I decided to do the same.
My post for last Valentine's was a bit…well cynical. So I thought I would be a bit more loving this year. I also made a button that you can put on your side bar for the duration of the month. If you click the one on my sidebar it will take you to Chloe's entry.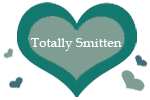 I read a ton of blogs that are amazing, but here are a few blogs that I am totally smitten with. Anyone can join in on the love though so feel free to use my heart or create your own. 😀
Mija- Mija's Malice
Melanie- Adorability
Yishi- My Dear Chopsticks
Robin- Carolina Robin
 So continuing on with the whole love theme, I've been visiting my family, we came to see how dad was doing since his accident. He apparently tore something in his shoulder and has an appointment on Monday to see a doctor. He will have to have surgery and they are just going over when it will be done. He will be out of work for awhile and needs something to keep him busy.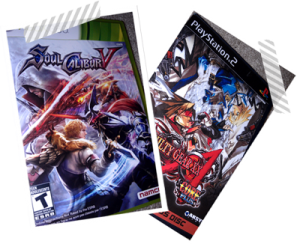 He wants some new games to play while he is out of work. Speaking of games, I found Guilty Gear XX1 Core Plus for 7 bucks. And Jody bought Soul Calibur 5 and lets just say they are both wonderful. But we, meaning my sisters and I…plus Jody, shouldn't be playing fighting games…against each other anyway. Kat kept winning and it annoyed us all. (Sore losers) Of course she sucks at Guilty Gear so that's all that matters. While at Hastings I saw this Star Wars bag, sadly it was ruined. The creators defiled it by adding this sparky pink crap around it. And its a shame too, because I loved this style of bag, its sort of like a bowling bag shape. I love bags like this and I've been wanting one for a while and this one would have been perfect if it wasn't sparkly and pink. I don't wear pink and this wasn't even a pretty pink. You can't really see it in this picture, but believe me it was just bad. If only it was blue or black, then it would've been fine. But no. Sorry to those that like the color pink. Its not an ugly color it just doesn't match my personality. I'm not a pink person.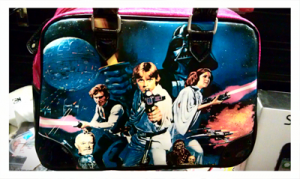 I keep looking at the awesome picture and it makes me sad. Oh well, I have my awesome Star Wars messenger bag and now my clutch so I shouldn't be too bummed about it. It's just a bag. I know I know. Moving on, I watched the first two Alien movies with the weirdos and I have to admit for the 80's the alien costumes and puppets were pretty awesome. I mean when they showed the Queen Alien, I was impressed. Pretty good introduction for an alien. So now we are on a quest to buy the last two movies of the saga. We also watched Quarantine 2, because we are a fan of zombies and this is pretty close to zombies. Plus we watched the Spanish version of the first movie and it we just needed something to watch. 😛 So that's pretty much all the exciting bits of this weekend. I have two papers to write and I haven't even started. And look at the time, I'm gonna have to stay up late just to finish it. -.- Good night all.
So tell me, what's your view on Valentine's Day? Hate it? love it?…Endure it? Let me know.