A new year. Its weird after graduating from high school time seems to go by in a different way.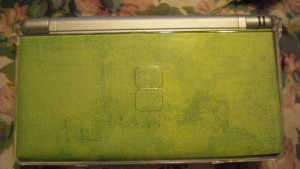 Fast sometimes and slow others. So I got up early and cleaned house a bit, I still have a ton to do which I will finish tomorrow. Hopefully >_<, it always seems like the laundry never gets done. (I HATE FOLDING WHITES!) Anyway I found out that I lost my two months with Missy. It is now two weeks a total of 18 days to be exact. Which I will hopefully spend 6 of those days with her. I hate that she lives 12 hours away.Kat and I finally received our DS cases in the mail today. We ordered clear cases while mom and Mija got ones with designs on the them. Mom's has butterflies and Mija's has Jack Skellington on it. Hers is the best, not only because of Jack but because it doesn't have hinges. Her case was made much better than ours. >_< I knew I should have just gotten the Stitch one. But I wanted mine to be green. My favorite color has become a curse. Nah I kid.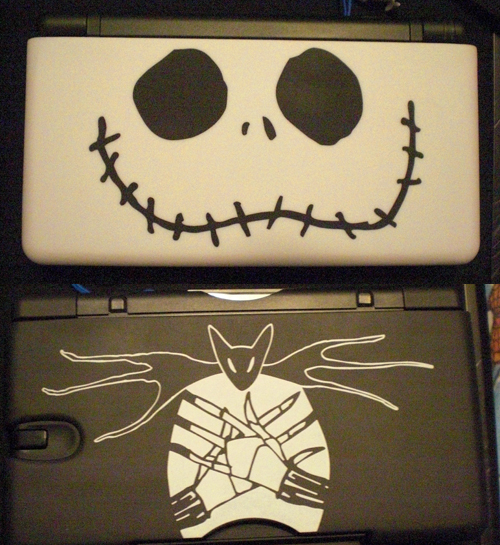 I love having my things green. Its a force of habit but I don't mind. At least I know that no one else will have my DS case because I can change it to whatever I want. Currently its is this pretty green patterned paper that I bought at hobby lobby a long time ago. So I'm happy with the finished product even though it took forever for the person to ship it. I ordered it on the 15th of December and I got it on January 4th. Now granted I know it was the Christmas holiday so I'm sure it was difficult to send it during the holidays. But I had emailed the seller like 4 times asking why he hadn't shipped my items yet and he didn't reply. He could have replied to me at least once explaining himself. Instead he ignores my emails, and when he does finally ship them he doesn't even let me know until I check my ebay account. Normally a (good) seller would email me to let me know that my items had been shipped. And if they are a wonderful seller they include a tracking number. But whats the use in complaining when I have the items, right?

Things to look forward to:
Missy time.
Cate's 18th birthday party.
Get my new cell phone on Monday!!!!!!!!!!! ….oh and classes start but I'd rather sleep in.   >_<
Oh yeah Andrea emailed me back! She is one of the coolest people I know. The only good thing from actually doing my Confirmation a year later than I was supposed to. Like I've said many times before, I find making friends complicated and difficult. So it takes me awhile to make friends that last. Currently the only friends I talk to since graduating is of course Missy, Cate and Hyun(if he counts?) That's it. Then I made friends with Ana and I talk to Constance every now and then and Isamar sometimes. Now Andrea!
-Andrea-


:3 If you read this, I hope we get a chance to hang out.