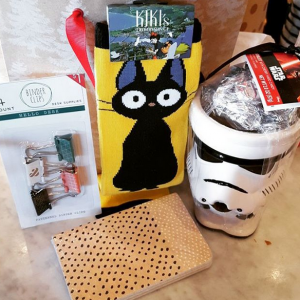 As I mentioned before, I've been spending time with my friends lately. Helps keep my mind off of things. My friends and I celebrated a belated Xmas together. Even though we haven't spent very much time together they still know me very well. Look at some of the goodies I received. The trooper goblet!!! And the Socks!!! Gah! It's all fantastic.
After having a bit of lunch and exchanging gifts we went around Rice Village for a bit. Stopped by Half Price, and then off to Urban Outfitters. We then made our way out of the village and stopped by Cactus music where I splurged and finally bought my favorite Tennis Vinyl – Cape Dory. Love their music! Bought it as an early Valentine's gift to myself. After browsing through records for a while we went and had some bubble tea and then ended the night wondering around Target. We spent the entire day together, which was nice. 🙂
… continue reading this entry.